Due to the circumstances of Covid-19 in Canada, sterility protocols are even higher on everyone's mind.
New research has shed light on the real difference between the sterility of "digital" versus older "legacy" dental techniques.  A dental impression is a common dental procedure that takes a negative imprint on the mouth.  The imprint, in turn, is used to make a model or "positive reproduction". The way St. Lawrence Dentistry works with dental labs lab is changing. Traditionally dentistry involves sending a physical impression of the patient's mouth to a dental lab. The new modern approach involves making a digital file by using intraoral scanners.  Digital technology has eliminated all the physical variables in dental impression taking and model fabrication. Dr. Hawryluk feels the enhanced sterility of its use and other benefits are clear. Hence, to serve the Mississauga community, St. Lawrence Dentistry has switched over from traditional to digital impressions.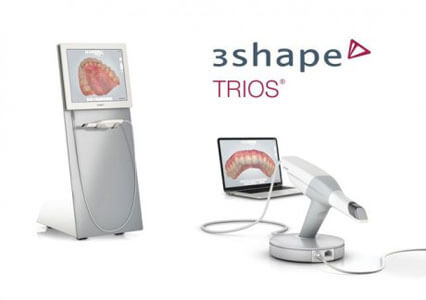 St. Lawrence Dentistry uses 3Shape TRIOS digital technology, which offers so much more than just a digital impression.  It provides award-winning wireless scan technology and the unrivalled "open TRIOS ecosystem" with total integration with the worldwide dental community.  There are so many benefits from Trios digitization, and they keep expanding. Improving workflows increased patient comfort, and more flexibility are just a few of these benefits. Digitization helps deliver higher quality dentistry more efficiently by enhancing the functional and esthetic results.  In turn, this has led to delighted Mississauga dental patients and differentiates St. Lawrence Dentistry.  The Trios software is continually updated, which excites and involves patients in the proposed treatment, reduces their time at the dental office, offers new treatment opportunities, and most importantly, is a more sterile and safe way of providing dental care.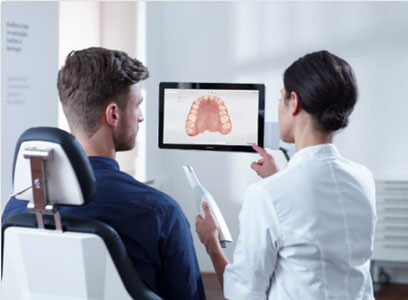 A  weak link in the sterility chain in dentistry has been the taking of impressions.  For years, dentistry took moulds of people's mouths to make crowns and appliances by putting trays filled with paste into people's mouths. These "impressions" were then poured up in stone to make a mouth model – this exposes the bacteria in people's mouths to the dental office. Thanks to the new Trios Digital technology, all this can be accomplished digitally, effectively stopping any cross-contamination risk.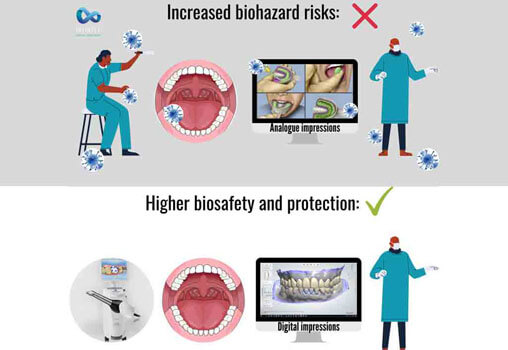 There are many reasons why digital technology is more sterile than traditional techniques. Before one can take a conventional impression, there are many items to prepare, and consequently, there is the exposure of many surfaces/materials to human handling. These are mixing tips, impression materials, bowls, countertops, and water dishes and waxes. After preparing the material, it is put in the patient's mouth, then taken out of the dental room for packaging. A delivery person then picks it up and delivers it to the dental lab. It is impossible to totally disinfect conventional impressions as you cannot put an impression in a steam sterilizer. Instead, they are "sprayed" with a germicidal agent, which is partially useful. Transfer of these impressions to the dental lab is typically in a wet bag. Remember, this has just come from a patient's mouth! The dental office, driver, and the dental lab must handle such an impression. Every step in this traditional workflow is a chance for viral and bacterial transmission. However, with the Trios scanning system, there is no handling of contaminated materials. Hence there is no chance of bacterial or virus transmission because there is no carrying material contaminated with saliva. The data is scanned and emailed to the lab by email by 3Shapes "communicate" software.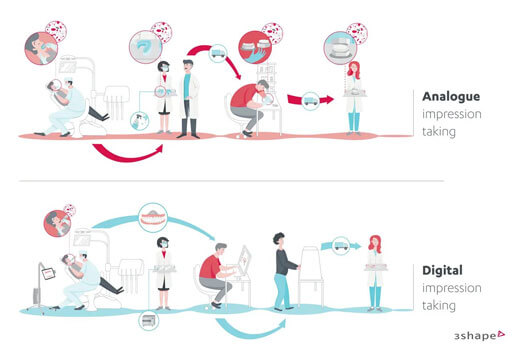 Items returned from dental labs to dental clinics can also become an infection source. Conventional impressions from clinics must be disinfected by labs to ensure the set dental cast does not contain microorganisms, which can reside within the material and remain vital for up to 7 days. Using digital impressions drastically reduces the risk of cross-contamination since all fabrication is digital. Trios digital software allows the manufacture of dental appliances such as crowns and night guards without touching them in the whole fabrication process. The dental prosthetics are milled by a CAD-CAM system instead of manually made on a technician's workbench. Manual creation of appliances/restorations increases contamination risks in the lab. Traditional production of dental restorations/appliances provides additional opportunities for contamination. Therefore, they require disinfecting, which extends the processing time. Digital scans with TRIOS do not require any disinfection or physical transportation from the clinic to the lab, making any transmission risk virtually zero. The Trios tips used to take digital scans can be sterilized entirely according to IPAC protocols using St. Lawrence Dentistry's hospital-grade M11 Midmark autoclaves.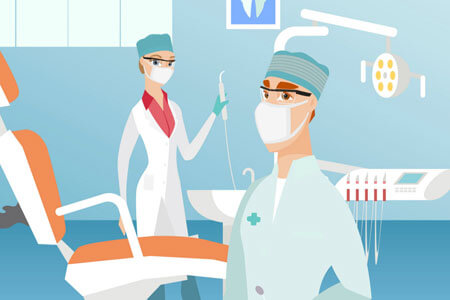 Dr. Hawryluk expects worldwide intraoral scanner use to double or triple in the next couple of years as it is becoming evident that this is the new standard in dental care. Moreover, Mississauga residents and beyond have increased access to information, driving their preferences for digital technology.  See for yourself and drop into St. Lawrence Dentistry.  We would love to show you what digital dentistry offers.