St. Lawrence Dentistry is proud to work with the MI Paste line of products.
Over time you teeth can lose nutrients and strength. Certain everyday activities, aging, consuming acidic foods, and many other situations can create an oral imbalance which can impact your oral health. When this happens it is important to have enough mineral available that your teeth need to stay strong and healthy.
MI Paste is a one of a kind product. It is the only take home dental product with Recaldent, which is a special milk derived protein that is a breakthrough in oral health care and is completely safe, even if you are lactose intolerant. Recaldent releases calcium and phosphate minerals into your mouth when they are needed to produce a saliva-like environment. This helps maintain the normal pH level and healthy teeth.
MI Paste Plus contains 900 ppm of fluoride (0.2 % sodium fluoride). The fluoride addition to MI paste plus gives it additional anti-cavity protection abilities. MI Paste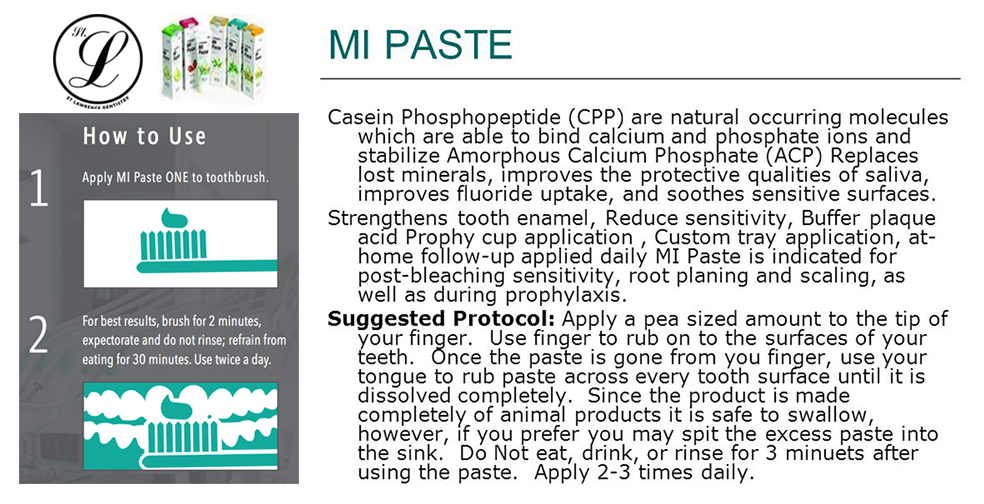 Plus is not recommended for children under 6 years.
MI Paste and MI Past Plus can help condition your tooth surfaces and keep your teeth vibrant for a lifetime. These products provide sensitivity relief from hot and cold, after teeth whitening, and after professional cleanings. The can protect teeth from acidic erosion by neutralizing acid levels from foods and beverages. In addition, the products offer comfort from irritated areas caused by dry mouth.Regular use of this product can lead to a healthier oral environment, a healthy vibrant esthetics of teeth, less chance of mineral imbalance.
If you have any questions about MI paste and you live in the Mississauga, Canada area please contact Dr. Hawryluk at St. Lawrence Dentistry.