St. Lawrence Dentistry Services – Complete Dental Care in Mississauga, ON
We offer all types of dental services for all ages with the most advanced equipment and high-end facilities to treat every patient with ease and comfort.
Sedation Dentistry
St. Lawrence Dentistry is proud to provide dental services in partnership with medical anesthesiologists in a state-of-the-art, wheelchair & stretcher accessible operatory. The operatory is accessible from the back of our office for patients who require increased privacy. The operatory is also wheelchair & stretcher-accessible for patients who have mobility issues.
Working with medical anesthesiologists allows us to treat patients with the highest standard of care, from patients who are simply anxious, to those who are medically compromised, or simply desire more comfort and privacy during their dental treatment.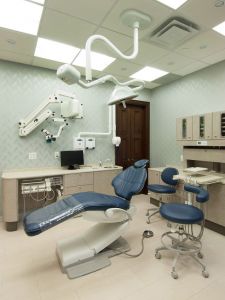 Pinhole Gum Rejuvenation
The Chao Pinhole® Surgical Technique (PST®), invented and patented by John Chao, D.D.S., is a scalpel-free, suture-free procedure for treating gum recession.
This procedure is performed by making a small hole with a needle in the gum tissue. Using specially designed instruments, the gum tissue is loosened and guided over the receded part of the tooth. Since there is no incision or suturing, patients can expect minimal post-operative symptoms (pain, swelling and bleeding). Most patients also are pleasantly surprised by the instant cosmetic improvement.
Please click here to learn more about this unique procedure.
Our office is equipped with two dental microscopes used during both root canal therapy as well as other procedures requiring high magnification and precision. A root canal often has more than one main canal and does not always run straight. The small canal entry points and branches sometimes cannot be easily seen by the naked eye or even magnifying surgical loupes. As a result, some undetected hollow areas or canals may be left untreated which can cause the remaining bacteria to develop inflammation at a later date, leading to the need for additional treatment or the loss of the tooth.
A state-of-the-art dental microscope will allow visual enhancements of the most subtle structures in the root canal. A dental microscope has the ability to view the root canals, both orthograde and retrograde through magnification and clear coaxial illumination of the working area, allowing the highest standard of cleaning & filling of root canals to help ensure a high success rate.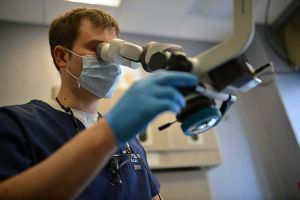 We take pride in addressing the dental needs of the entire family, from regular cleanings to fillings and more. Our approach is both conservative and thorough, reviewing all findings with patients and showing them where and how problems arise and all options available to tackle them.
We strive to take a comprehensive & preventative approach to dentistry, treating the needs of the entire mouth & patient as a whole rather than individual teeth. Ensuring you are, comfortable, well-informed about your health and well-equipped to take control of your treatment is our primary goal.
From veneers & crowns to whitening, we provide a range of cosmetic treatments & therapies that can restore your smile & confidence. Different patients can benefit from different, or sometimes a combination of, these procedures. Whether it is fixing a chipped tooth to revitalizing an entire smile, we can help.
Please click here to view our before and after gallery of some cosmetic procedures.
Dental implants are the best, most natural way to replace missing teeth. They maintain the bone left behind by missing teeth, function like natural teeth (you can even floss them!), and provide the closest thing to having your natural dentition back. Dental implants can be used to replace single or multiple teeth, and even be used to secure and hold a denture or other appliance.

Contact Us or call (905) 278-1649