St. Lawrence Dentistry recognizes the foundation of any dental treatment should be a complete dental exam. This is an important first step in the early detection and treatment of gum disease and tooth decay.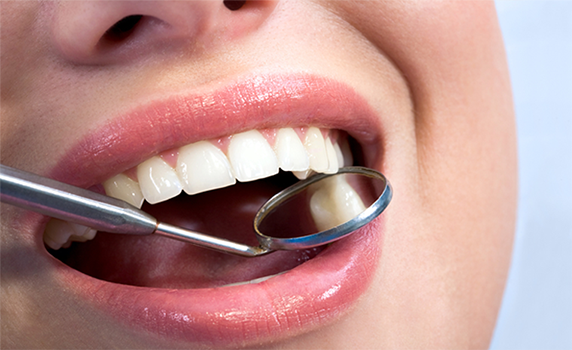 Dental Exams in Mississauga
Dental exams are an important step in the early detection and treatment of gum disease and tooth decay. For a first time visit, the dentist will perform a comprehensive dental examination that is very thorough and can include:
A review of the patient's medical history, especially drug and latex allergies
Oral cancer screening
TMJ (temporomandibular joint) evaluation
Orthodontic screening to check the positioning of teeth and jaw bite
Complete gum examination and pocket measurements(periodontal examination)
A complete examination of all teeth, crowns, and fillings
Evaluation of wisdom teeth
Smile photographs and molds or impressions of your teeth, if necessary
During a regular checkup, the dentist will conduct a less extensive exam that will include many of the steps performed during an extensive exam, such as:
Review of any changes in the patient's medical history since the last visit.
Examination of tooth decay and damage using special instruments.
X-ray of any teeth that show signs of decay or wear.
Evaluation of gums for signs of periodontal disease.
Exam of existing restorations.
Screenings for oral cancer.
Your dentist or dental hygienist will also likely provide you with a quick reminder on proper home care and brushing techniques.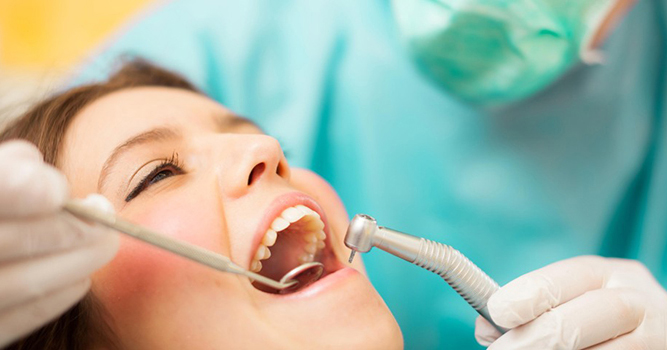 Teeth Cleaning & Prevention in Mississauga
Dental cleaning is the removal of dental plaque (a soft, sticky, bacteria infested film) and tartar (calculus) from the teeth. Dental cleanings are necessary to prevent cavities, gingivitis, and gum disease. If left untreated, severe gum disease can result in tooth loss. Cleaning and polishing of the teeth leave the surfaces of the teeth clean and smooth so that bacteria are unable to stick to them.
The dental hygienist or dentist will use specialized instruments to gently remove these deposits without harming the teeth. First, the dental hygienist will use an ultrasonic device that emits vibrations to knock larger pieces of tartar loose. The ultrasonic device sprays a cooling mist of water while it works to wash away debris and keep the area at a comfortable temperature. Next, hand tools called scalers and curettes are used to manually remove smaller deposits and smooth the tooth surfaces. These tools are curved and shaped to match the curves of the teeth. Once all the tooth surfaces have been cleaned of tartar and plaque, the teeth are polished using a slow speed handpiece with a soft rubber cup that spins on the end. Prophylaxis paste which is a special gritty toothpaste-like material – is applied to the teeth to make them shiny and smooth. Your dental hygienist or dentist may also apply fluoride to the teeth to help strengthen the tooth enamel.
For more information about dental cleanings at St. Lawrence Dentistry please visit our blog post.