One area of focus at St. Lawrence Dentistry is the treatment of dental caries/cavities. Dental caries is the most common disease known to mankind (or people-kind). The primary etiology of cavities is dental plaque which is basically a collection of bacteria and is its food source. Cavities are the chief factor in tooth loss and can affect your overall wellness so they should be taken very seriously.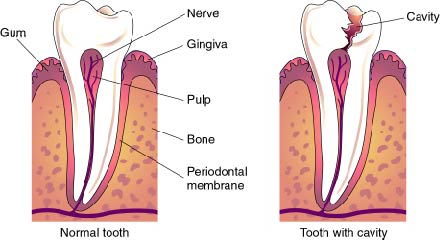 Causes of dental decay can be linked to proficiency at an oral hygiene regimen, diet, and habitual factors. A diet that is concentrated on sweets and carbohydrates, frequent smoking and too much consumption of alcoholic beverages can certainly contribute to dental decay. The dental hygienists at St. Lawrence dentistry frequently review these causative factors with our patient and discuss ways of modifying them to help prevent dental decay.

The dentist has several methods of detecting cavities. A visual inspection is the initial detection method. At St. Lawrence Dentistry we use high power loupes or microscopes for this visual exam to enhance acuity at detection. Secondly radiographs can help detect cavities in between teeth. St. Lawrence Dentistry is proud to use Schick digital sensors which are among the finest sensors available for digital radiography. The upgraded sensors allow for a clearer view in between the teeth and for a more accurate diagnosis. Trans illumination and lasers can also be used to help detect cavities. If a cavity is deep patients may feel sensitivity in their tooth or pain on biting. It is important to realize that not every dark area on a tooth is a cavity. Some dark sports can be simply stains. Only the dentist can ascertain if you have a true cavity.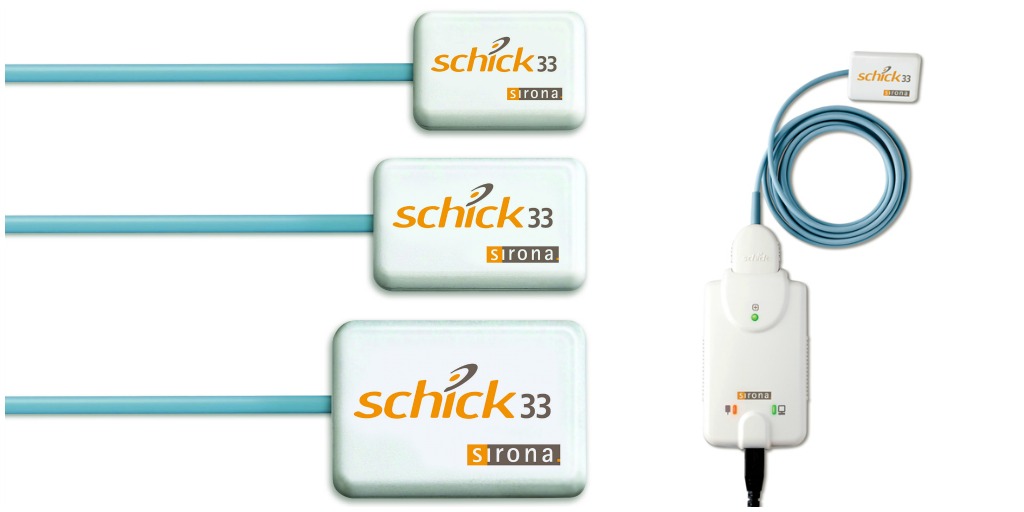 St. Lawrence Dentistry takes several steps to ensure excellence in filling dental cavities. If you have a cavity you should carefully consider the following points before selecting the dentist to fill your cavity. It is important to find a dentist who will take the time to fill your tooth properly. If the dentist is in a rush when a filling is done this can lead to complications. The dentist should ensure the bur to remove the cavity is not dull so no unnecessary pressure has to be used to drill out the cavity. Dr. Hawryluk recommends removing the base of the decay with a drill operating at a reduced RPM. This will be less upsetting to the nerve of the tooth. If the area has a lot of saliva present the dentist should take the time to place a dental dam to ensure the filling is not contaminated with fluid when setting. The dentist should be using proper magnification to an accurate excavation of the tooth is possible. A range of filling materials should be available to the dentist. One filling type of filling material does not suit every situation so be sure the dental office stocks a range of materials. At St. Lawrence Dentistry we use a range of 3M and GC products which are among the premier dental materials available. Dr. Hawryluk does not recommend use of metal amalgam fillings as these require a filling preparation deeper than the actual cavity which makes them not conservative.
If you think you might have a dental cavity and you live in the Mississauga, Port Credit, or Toronto area we suggest you consult with the dentists at St. Lawrence Dentistry. They will diagnose your situation and go over potential treatment options, and perform and necessary treatment in a skilled and gentle way.
Below is an actual cavity filled by Dr. Allan Hawryluk of St. Lawrence Dentistry using GC restorative composite material.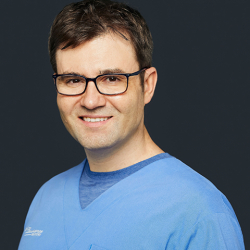 Latest posts by Dr. Allan Hawryluk
(see all)
---