A dental implant is a titanium screw implanted into your jawbone, which acts as an anchor for a tooth replacement.
It can fuse to the bone in a process called osseointegration. An "abutment" attaches to the implant, which holds an artificial tooth or dental crown in place.  Our Mississauga dental office has practiced implant dentistry for years, and it is a wonderful treatment that can increase the quality of life.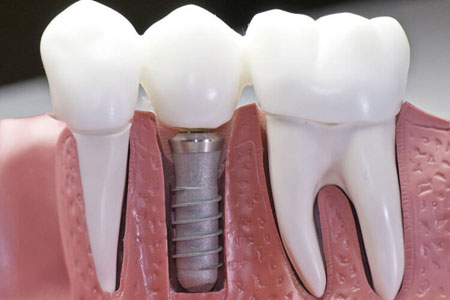 At St. Lawrence Dentistry, we want your implant to be an outright success and not merely survive. Many implants placed around the world "survive" but are not ideal enough to be called a "success". Survival is considered the osteointegration of the implant with or without bone loss.  With some loss of bone aka Peri-implantitis, the implant could still survive if it is maintained. Investigators evaluating over 7000 implants found the survival rate was 94.6% after a mean follow-up of 13.4 years with an average of 1.3 mm of bone resorption around the implants. In general, implants are a viable and excellent alternative for tooth replacement due to such high survival rates despite some not being ideal enough to deem a bonafide success. St. Lawrence Dentistry strives to place implants as ideal as possible to be genuine successes with as little bone loss as possible. One way we get a high degree of success is by practicing guided implant surgery.
To learn more about guided implant placement, please visit here:
BioHorizons Guided Implant Surgery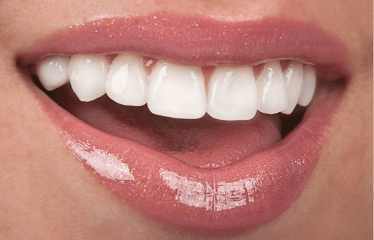 When we restore implants (put the dental crown on them), rule one is to verify osteointegration. There are several ways Dr. Hawryluk Jr. tests integration. The first is a percussion test where he taps a mirror head against the implant-this will elicit a ringing sound from the implant, which indicates good stability.  The second is a reverse torque test. We use the same torque used to place the implant in a reverse mode to see if the implant moves or not.  Caution must be used in this test as sometimes there can be cases where an implant is on its way to being integrated but needs more time. Doing the torque test too early can disrupt the osseointegration which was occurring.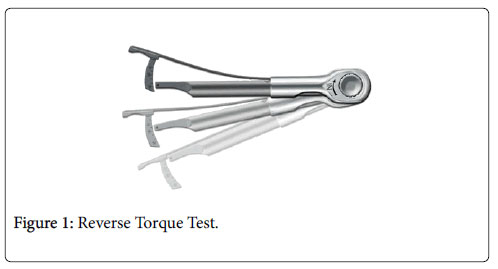 Another emerging technology to test implant stability is called Resonance Frequency Analysis.  We do not use this technique at St. Lawrence Dentistry, but we are studying its utility. It uses a quotient called the implant stability quotient (IQS), indicating the stability of osteointegration in a dental implant from 0-100.  Higher values indicate better stability.  Acceptable values are between 55-85 IQS.  Values tend to be higher in the mandible over the maxilla.  The IQS is a patented technology of a Swedish based company Osstell AB.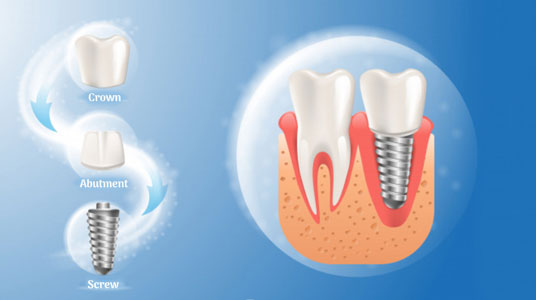 The dentist must understand the engineering of the implant materials. A small screw holds an implant abutment to the dental implant, and the relative torque values must be known when fastening the screw. Each type of restorative screws have different torque values, and the manufacturer's specifications must be followed to torque the implant abutment into place. Too little torque can mean the screw could come loose, and too high a torque could mean separation of the screw head from its body and potentially with the implant fixture itself. Rest assured, Dr. Hawryluk knows all the "ins" and "outs" and can deliver the best implant treatment to his Mississauga patients.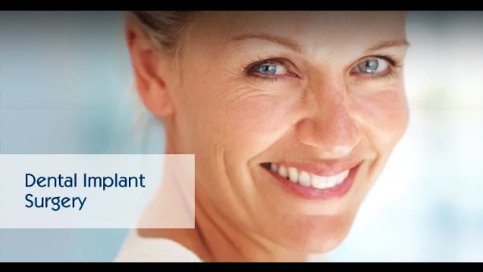 The base an implant crown sits on is called the abutment. A stock abutment is a "one size" connector piece sold by an implant manufacturer, whereas the "custom abutment" is custom-made by our dental lab. The main problem with stock abutments is that it's difficult to control the cement line, leading to peri-implantitis.  The characterization of peri-implantitis is inflammation around a dental implant. Stock abutments correlate with a higher incidence of bone loss and, consequently, implant failure.  At St.Lawrence Dentistry, we often use precision custom abutments made by the Oakville-based Solaris Dental Lab.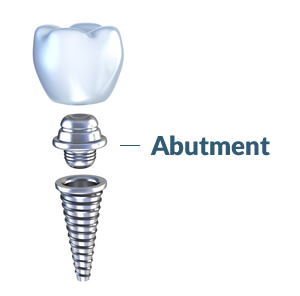 Advantages of stock abutments are they are less expensive to use, and they have an easy impression technique from an analog (old way of taking a dental mold) standpoint.  However, if the dentist is using a digital scanner, like Dr. Hawryluk is this advantage evaporates.  The only way to correct angulation issues (if implant placement is at an off-angle) with a stock abutment is to "prepare it", and Dr. Hawryluk does not recommend this. St. Lawrence Dentistry strongly encourages the shift of dentistry away from using stock abutments to custom abutments.  There are so many advantages to custom abutments that it is unreal.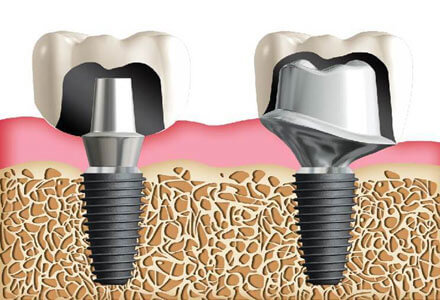 Advantages of custom abutments are that they provide:
Superior contours of soft tissue and emergence profile
Reduce the risk of cement issues
Excellent fit of dental crowns to the abutment and better retention due to more surface area of custom abutments
Ability to precisely correct angulation
Less use and expense of precious metals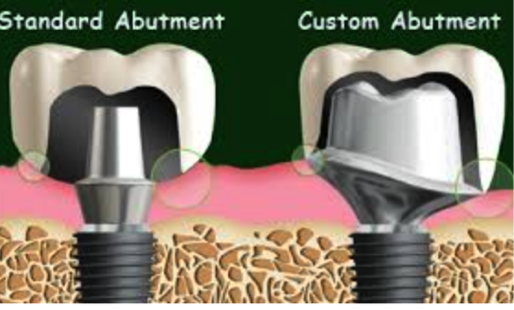 When we get into custom abutments, we have several subset types to choose from: Titanium (Ti) abutments, Titanium-based abutments, and zirconia abutments. The advantage of Titanium abutments is strength, and the disadvantage is color. They are suitable for PFM and zirconia-based crowns. They are not acceptable if the crown it's translucent because the grey will show through. Zirconia abutment advantages are the color, and the disadvantage is strength. They can be helpful when using glass ceramics such as Emax.
To learn more about Emax dental crowns, please visit us here:
Differences Between Zirconia, Emax, And Ceramic Hybrid Dental Crowns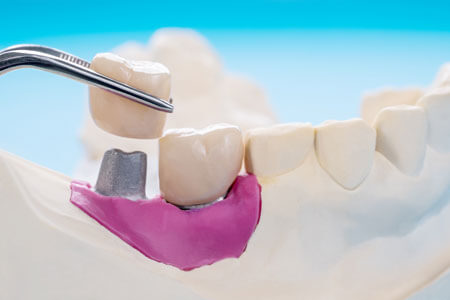 Dr. Hawryluk tries to limit the use of zirconia abutments. We know zirconia is solid, but it is also very brittle.  The last sound we want to hear when we are torquing a zirconia abutment is a "crack", indicating failure at the abutment-implant interface.  The other problem is zirconia abutments is they can be detrimental to the titanium implants. If you have to remove the zirconia abutment, there is a small chance that it can abrade or warp the 'internal hex' of an implant and render the implant non-restorable. St. Lawrence Dentistry does use them, though, if we are planning an all-ceramic crown, as zirconia abutments provide a better aesthetic result than metal abutments in this circumstance.
Titanium base abutments have the outer portion, made of zirconia, which blocks the titanium base. It needs to be luted appropriately to the titanium base (with adhesive resin cement). The advantage of these abutments is color; the disadvantage is strength (compared to all titanium abutments) and luting strength. They are great for zirconias and glass restorations. Strength and reliability are significantly higher for the Titanium base abutments compared to the pure zirconia abutments.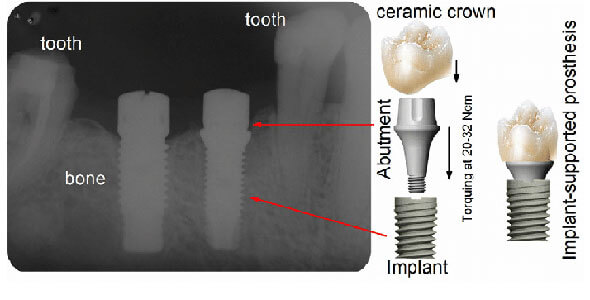 In some instances, an implant is significantly below the gum line, and the abutment extends to the implant with a metal collar. In these cases, there are a high likelihood of the abutment color showing through the gingival (gum)tissues — especially if there is a thin tissue biotype. The Ti base abutment circumvents the dilemma of choosing metal or titanium — we "can get away" with a thin gingival (gum) biotype (we won't have a grey hue through the tissue, which would be the case with a traditional Ti abutment). Additionally, we can use this with glass-ceramic restorations and appropriately block out the metal base.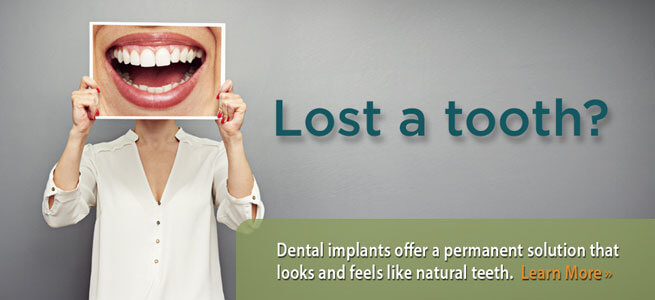 The emergence profile is the shape of the connector abutment between the implant and crown. Emergence profile is critical, and it is something you cannot predictably control with a stock abutment. However, with a custom abutment, there is no reason why you cannot get a full anatomical emergence profile that will allow for a more aesthetic restoration. One of the issues we can encounter when we sit more anatomically correct abutments is a little tissue resistance. In these cases, we will anesthetize the surrounding tissue to place the abutment entirely. We love when we can give our Mississauga dental patients the advantages that custom implant abutment offer.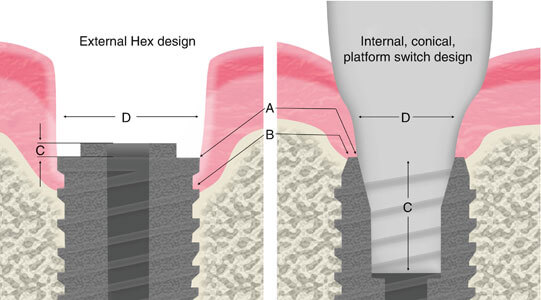 A  screw-retained crown is one where both crown and implant screw into the implant. In a cement-retained implant crown, the abutment still screws into the implant. However, the crown and abutment adhere together by cementation. Digitally both options are available for impression taking and virtual designing. We mention digital because St. Lawrence Dentistry is a digital office. One of the main advantages of screw-retained restorations ease of retrievability- this allows us to clean around the implant or replace or re-torque the screw. Another advantage is we can use strew retained crowns in situations where there is a limited interocclusal distance (distance between upper and lower teeth). Screw retained crowns also don't have cement irritation at the restoration-abutment interface.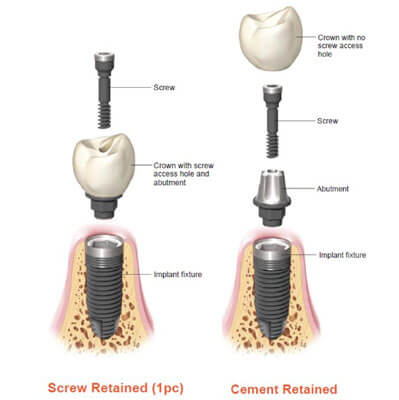 A  dental implant bridge is when we place two implants to fill in a three teeth space. When we plan a dental implant bridge, Dr. Hawryluk feels that a "screw-retained" is best when possible. However, he said you have to be careful with these as the implants placement as part of a bridge needs to be almost entirely parallel. Otherwise, the bridge will not be able to be seated passively. Dr. Hawryluk recommends "non-engaging" abutments for screw-retained implant bridges and always has the lab verify the draw. These lack internal hex features and allows for a little bit of "wiggle room" if the implants are slightly off angulation. The disadvantages of screw-retained implant crowns are the screw access hole is often visible, hampering the esthetics. However, the access hold is hardly visible when we use modern Emax crowns. Screw retained crowns are not always possible if due to implant angulation – particularly in the anterior region (front teeth).
To learn more about implant-based dental bridges, please visit us here:
Digital Technology Facilitates Dental Implant Bridge Fabrication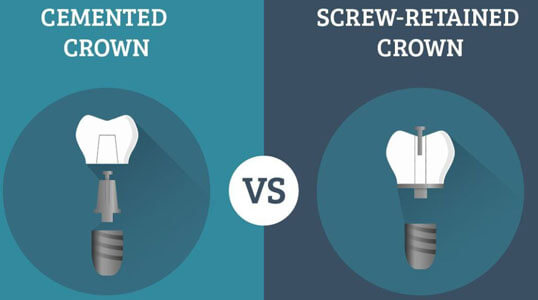 Cement retained implant restorations have their own set of advantages. Their shape can be independent of implant angulation, which can enhance the esthetics. No screw access hole is present, and there is a passive fit of the implant restoration. The disadvantages of cement-retained implant crowns relate more to stock abutments, namely controlling dental cement. If the "cement line" is below the gum line, it can lead to bone loss. The crown is not retrievable without destroying the crown. Sometimes crown retention can be an issue if the abutment is short.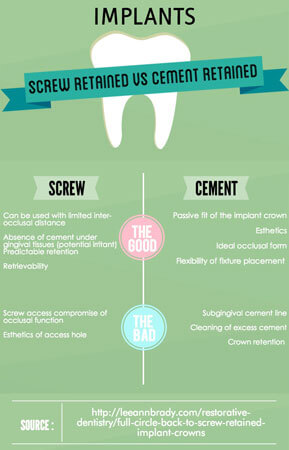 In closing, implants have become such a vital modality of treatment that the treatment planning, acceptance, and placement rates have all increased. We hope you have enjoyed this article, and feel free to ask us questions when you are in at our Mississauga office.
Reference(Restorative Implantology: Putting the pieces together after placement. Viva Learning: 2020)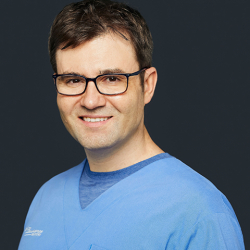 Latest posts by Dr. Allan Hawryluk
(see all)
---