St. Lawrence Dentistry has integrated next-generation digital dental technology. Our office has partnered with 3Shape to focus on solutions that make a real difference.
Digital dentistry refers to using dental technologies that use computers to accomplish dental planning and diagnostics rather than using mechanical means. Digital dentistry means more options and better care for our patients.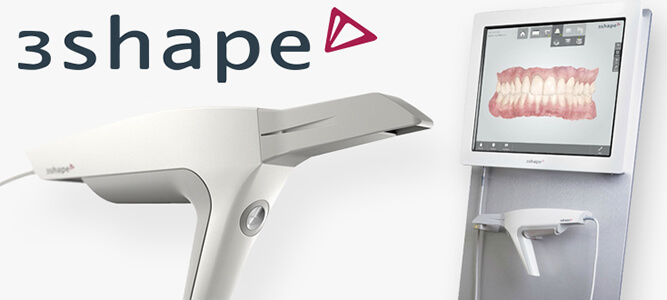 The cornerstone of Digital dentistry is the 3Shape Intraoral Trios Scanner. Dr. Hawryluk uses it to create a digital impression of a tooth's anatomy and the tri-dimensional position of dental implants. All the information is stored electronically, which has ushered in a new era of Cloud-Based Dentistry. Digital dentistry offers patients the convenience of not having to endure traditional impressions: unpleasant tasting materials, bulky, cumbersome trays, and possible gagging. About 5% of dentists around the world use intraoral scanning. We can now make a digital replica of the whole mouth in under 2 minutes.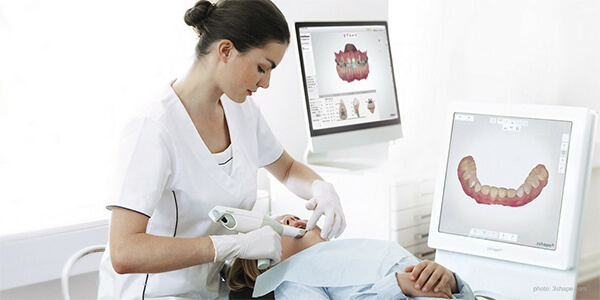 The legacy method of taking a dental impression is called "analog" and was used successfully at St. Lawrence Dentistry for 45 years. However, the benefits of new digital impressions over this old method are clear. One study analyzed analog impressions, and 86% percent had detectable errors. Analog impressions can have errors caused by distortion, wrong setting time, voids in material, adhesion to "tray issues", and tearing around "undercuts". There are endless reasons for errors with analog impressions. In contrast, a digital image is close to flawless. The Trios scanner is astonishingly accurate for making dental crowns, implants, and orthodontic aligner trays. The scanner also acts as a camera. The speed is incomparable between analog and digital methods. All in all, intraoral scanning is fantastic.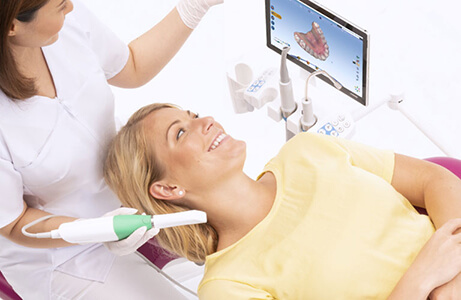 The most widely known function of scanning is it takes the images necessary to form a digital model. But it does much more than replace impression materials. The 3Shape Trios scanner comes with a whole suite of software that is continually updated.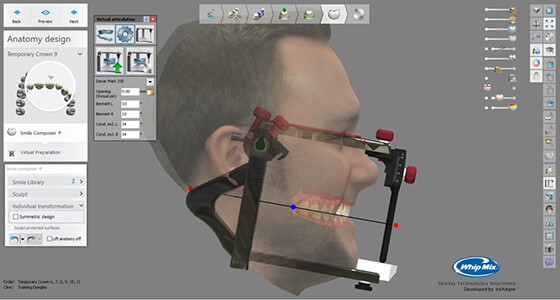 The Trios Design Studio allows us to digitally design beautiful restorations for your teeth such as crowns, veneers, inlays, and onlays. The software ensures the "margins" of dental work are accurate to fabricate excellent fitting dental restorations. Additionally, it checks we have enough space for porcelain work and its proper retention. Furthermore, it helps select the best material choice, takes teeth shades, and assesses how teeth bite together. The digital shade analysis that comes in our software is better than standard methods of taking shades- this is a cool added scan advantage. The "motion" part of this software (figuring out how the teeth align) blew us away. It allows us to analyze the jaw movements to build dental work that conforms with your mouth's nuances. Ultimately, the chances your crown will need adjustment in the mouth is minimal. In full mouth rehabilitation cases, the most challenging part is taking an analog impression of all teeth at once. In digital dentistry, we can break a full arch case into segments. Dr. Hawryluk usually prepares the anterior teeth first, scans the entire arch then "locks" the scan of the anterior teeth. Then we do the left and right back teeth in segments and do the same. The scans are spiced together to create a remarkably perfect digital image.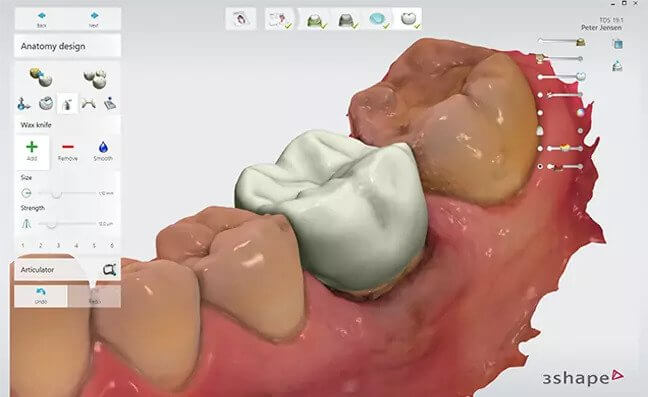 The Trios Splint Studio is used by Dr. Hawryluk Jr. to design night guards to alleviate dental clenching and grinding symptoms. They can help put your jaw in the most functionally harmonious position while wearing it. Many patients have TMJ problems and jaw muscle pain. Dr. Hawryluk can find the most comfortable position for your jaw, scan in this position, and make a full nightguard or digital 'Kois deprogrammer' based on the clinical measurements. Analog methods of night guard fabrication can be cumbersome and inaccurate. We are thrilled to bring this amazing technology to our Mississauga community.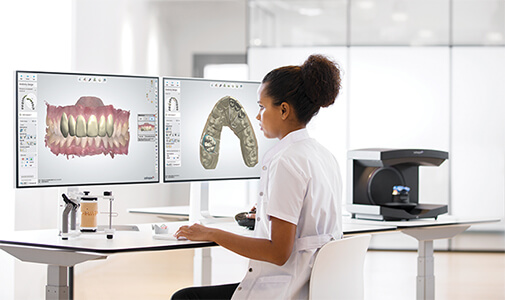 With the Trios Smile Design we can take your photos and design a new virtual smile for you. It is a great tool to show what is possible with dental veneers. Veneers have a 99% survival rate when confined to enamel and 94% when there are at least 'enamel margins' When porcelain laminate veneers exclusively bond to dentin (inner part of the tooth), they are ten times more likely to fail. It tells us that minimally invasive veneers are the best, and we have to respect enamel as the best substrate for veneers. The software helps us find a way to be minimally invasive with cosmetic work. The artificial computer intelligence will tell Dr. Hawryluk immediately if we have enough room to achieve the design. Sometimes we correct teeth alignment with orthodontic "aligners" first, such as those made by Invisalign.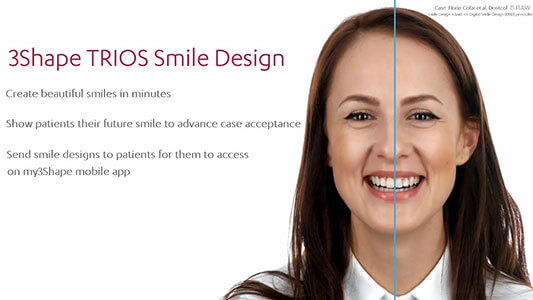 Trios Patient Monitoring lets us track changes in your dentition over time and is a "game-changer". With certainty, we can see if your teeth are receding, shifting, or shortening over time and intercept with treatment. From a communication standpoint, it is extraordinary as it is easy to show patients what is "happening". For example, the erosion of teeth used to be difficult to show to patients because these "volumetric" changes happen over such a long period. Monitoring allows us to scan patients on a timeline and merge the scans and analyze volumetric changes. It becomes apparent whether issues are static or changing. It allows our Mississauga office to be proactive and make forward-thinking treatment decisions.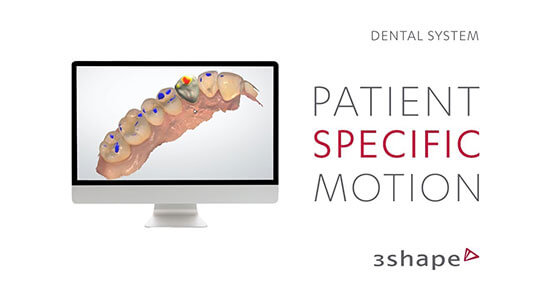 The Implant Studio allows us to plan your dental implant treatment accurately. Dr. Hawryluk can overlay your Trios scan over a CBCT scan to virtually plan your implant placement. Guided implant surgery means the implant size, angle, and depth are all figured out in advance of the patient's appointment.
To learn more about modern implant placement, please visit us here:
BioHorizons Guided Implant Surgery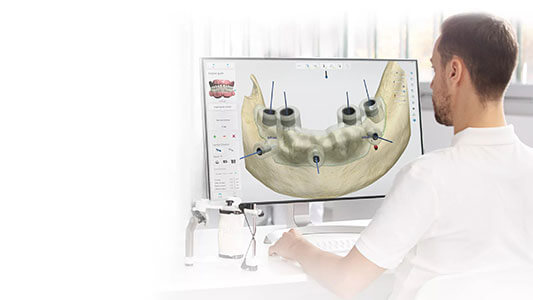 Digital technology is a positive disruption to dentistry. The 3SHAPE Trios scanner is at the forefront of this radical change, and St. Lawrence Dentistry is pleased to offer this technology to the City of Mississauga. We measure real success in the longevity of each case we treat and the happiness we generate for our patients. The Trios scanner helps us deliver this. St. Lawrence Dentistry would like to be your Mississauga Dentist. Please give us a call if you would like to learn more about our office.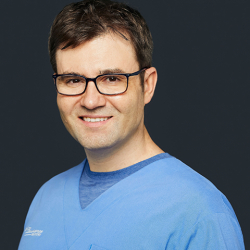 Latest posts by Dr. Allan Hawryluk
(see all)
---