People with allergies are already accustomed to being cautious with regards to the foods they eat, taking extra caution not to include them in their diet. But there's another place where people with allergies should be careful; that's the dentist's office. Regardless if it's just routine cleaning or other major dental procedures, such dental work can expose you to potentially dangerous substances that can trigger allergic reaction, which can include:
Gluten. Dentists use polishing agent that may contain gluten. If you have gluten intolerance, you should clear this with your dentist. You may specifically request gluten-free polishing agents.
Acrylic. Often used for temporary veneers, implants and crowns, you can ask your dentist to use composite material instead of acrylic.
Metals. Take notice that most of the crowns and fillings used in dental works are made from metal. If you have allergy on metal, you should inform your dentist about it so he / she can use all-porcelain crowns and fillings.
Epinephrine. This is usually used in dental anesthetics. This substance can cause an increased heart rate and a high level of anxiety in people with epinephrine allergy. Dentists should be informed not to use this substance if possible or if any types of increased heart rate or anxiety is observed or felt.
Eugenol. This is a sedative agent which is often used in cements. If you notice allergic reactions such as tissue damage and inflammation, after your dentist uses cement, you may have allergic reaction to eugenol. It is important to inform the dentist right away if allergic reactions are observed.
Latex. Some people have allergic reaction to latex. And latex is a common substance in most of the dental materials such as the polishing angles and gloves. If you are sensitive to latex, your dentist can use latex-free polishing angles and latex-free gloves.

Even if you are not certain about having any allergy on any of the substances mentioned above, it is important that you inform the dentist if you feel any allergic reaction like itchiness, redness, swelling, etc., so the dentist can help identify the possible source of allergy. Once the allergens are identified, your dentist can use alternative materials or substances.
You should also know your options. By understanding your health issues, you are giving yourself more protection from potentially dangerous substances. By discussing sensitivity or negative reaction while having dental treatment or procedures with your dentist, your dentist can check and monitor the allergic reaction to specific or even unknown allergens. By working together with your dentist, you are eliminating the possibility of exposing yourself to harmful substances and using allergy-friendly alternatives instead.
It is important that you communicate these things with your dentist to prevent any untoward reaction especially with kids. Informing your pediatric dentist about your child's allergy history is vital for children have more adverse reaction with allergies.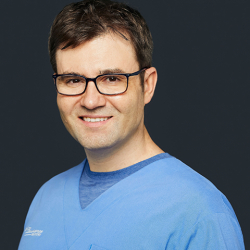 Latest posts by Dr. Allan Hawryluk
(see all)
---