Chlorhexidine (aka chlorhexidine gluconate) is antiseptic. It's used at St. Lawrence Dentistry and as a take-home rinse by many of our valued patients.
It can also treat yeast contaminations of the mouth and is helpful against a range of microbes. It came into clinical use in the 1950s and is obtainable by prescription in Canada. It is on the WHO'S Catalog of Essential Medicines. Recently it was ranked the 286th most regularly prescribed medical formulation in the United States.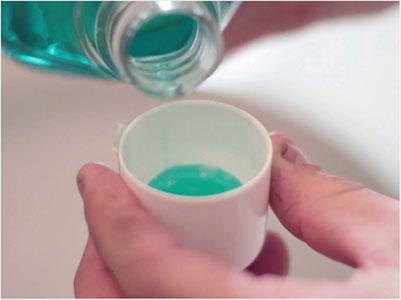 Uses
Dr. Hawryluk feels that using a Chlorhexidine-based mouthwash blended with regular tooth care can reduce plaque buildup and combat mild gum inflammation. Root canal treatment is a "canal irrigating solution" and "intracanal dressing." However, sodium hypochlorite is the canal irrigant of choice at St. Lawrence Dentistry. Dr. Hawryluk sometimes prescribes about 20 mL twice daily (concentrations of 0.1% to 0.2% ) with a span of at least half a minute. Research suggests using Chlorhexidine for 4 to 6 weeks leads to a moderate reduction in gingivitis. Other non-dental uses include skin disinfection before surgical procedures and instrument disinfection. It is also applied for cleansing cuts and preventing urinary catheters from obstructing.

Antiseptic Properties
Chlorhexidine is effective on a range of bacteria and fungi. However, it is ineffective on polioviruses and adenoviruses. An investigation is ongoing concerning its effectiveness on herpes simplex.
Chlorhexidine releases positively charged cations, which bind to negatively charged bacterial cell walls. Chlorhexidine "cation" can associate with anionic parts of toothpaste, such as sodium lauryl sulfate and sodium mono-fluorophosphate, and makes salts of low solubility and reduced antimicrobial action. In other words, surfactants commonly used as detergents in toothpaste and mouthwashes can deactivate Chlorhexidine. Therefore Dr. Hawryluk suggests his Mississauga patients wait 30 minutes after brushing before using Chlorhexidine.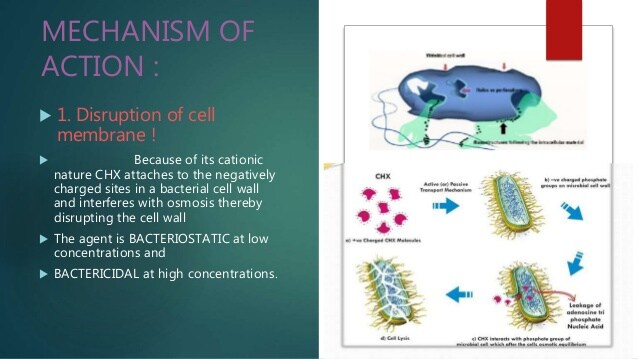 Side effects
There are some unfavorable outcomes of prolonged Chlorhexidine use which our Mississauga dental office always keeps in mind. These include sensitivity to the mouth lining, tooth discolorations, tartar accumulation, and impaired taste. In addition, external tooth staining happens after using chlorhexidine rinse for one month or longer. Use in pregnancy is deemed safe. There are now prescriptions for Chlorhexidine that stain teeth less than the traditional solution, several of which include chelated zinc.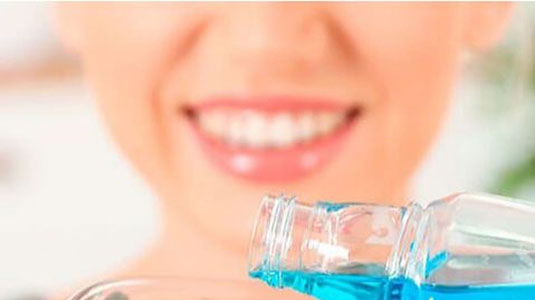 Chlorhexidine is ototoxic. If placed into an ear canal with a ruptured eardrum, it can cause hearing loss. Whether continued use over several years may increase the chance of causing cancer is still unclear. The FDA advises restricting the use of a chlorhexidine mouth rinse to a maximum of half a year. When ingested, Chlorhexidine's absorption is limited and can precipitate gastrointestinal upset or nausea. If aspirated (into the lungs), it can cause acute respiratory distress syndrome. Our Mississauga dental patients are encouraged to talk to Dr. Hawryluk if they have questions about these side effects.
We hope you have enjoyed this article. Thank you for reading!
References:
Schmalz, Gottfried; Bindslev, Dorthe Arenholt (2008). Biocompatibility of Dental Materials. Springer Science & Business Media. p. 351. ISBN 9783540777823. Archived from the original on 2017-01-13.
World Health Organization (2019). World Health Organization model list of essential medicines: 21st list 2019. Geneva: World Health Organization. hdl:10665/325771. WHO/MVP/EMP/IAU/2019.06. License: CC BY-NC-SA 3.0 IGO.
James P, Worthington HV, Parnell C, Harding M, Lamont T, Cheung A, Whelton H, Riley P (2017). "Chlorhexidine mouth rinse as an adjunctive treatment for gingival health." Cochrane Database Syst
Kumar, S; Patel, S; Tadakamadla, J; Tibdewal, H; Duraiswamy, P; Kulkarni, S (2013). "Effectiveness of a mouth rinse containing active ingredients in addition to chlorhexidine and triclosan compared with chlorhexidine and triclosan rinses on a plaque, gingivitis, supragingival calculus, and extrinsic staining"—International Journal of Dental Hygiene.
Kolahi, J; Soolari, A (September 2006). "Rinsing with chlorhexidine gluconate solution after brushing and flossing teeth: a systematic review of effectiveness." Quintessence International.
https://en.wikipedia.org/wiki/Chlorhexidine#cite_note-coch2017-18
 Briggs, Gerald G.; Freeman, Roger K.; Yaffe, Sumner J. (2011). Drugs in Pregnancy and Lactation: A Reference Guide to Fetal and Neonatal Risk. Lippincott Williams & Wilkins. p. 252. ISBN 9781608317080. Archived from the original on 2017-01-13.
Lai, P; Coulson, C; Pothier, D. D; Rutka, J (2011). "Chlorhexidine ototoxicity in ear surgery, part 1: Review of the literature". Journal of Otolaryngology-Head & Neck Surgery. 40 (6): 437–40.
Below, H.; Assadian, O.; Baguhl, R.; Hildebrandt, U.; Jäger, B.; Meissner, K.; Leaper, D.J.; Kramer, A. (2017). "Measurements of chlorhexidine, and p-nitrobenzene in saliva after mouth wash before and after the operation with 0.2% chlorhexidine digluconate in maxillofacial surgery: a randomized controlled trial". British Journal of Oral and Maxillofacial Surgery. 55 (2): 150–155.
Leikin, Jerrold B.; Paloucek, Frank P., eds. (2008), "Chlorhexidine Gluconate," Poisoning and Toxicology Handbook (4th ed.), Informa, pp. 183–84
Denton, Graham W (2000). "Chlorhexidine." In Block, Seymour S (ed.). Disinfection, Sterilization, and Preservation(5th ed.). Lippincott Williams & Wilkins. pp. 321–36.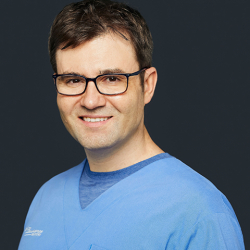 Latest posts by Dr. Allan Hawryluk
(see all)
---