Lichen planus is a condition that can attack the skin and oral-esophageal mucosal tissues.
Frequently, it is seen exclusively in the mouth. Overall, lichen planus afflicts roughly 2% of the community. Although the ailment may happen in any age group, women above 50 years have a higher probability of contracting lichen planus.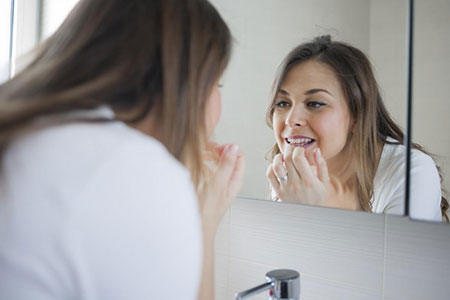 Cause
The etiology of lichen planus is not wholly known, but heredity and the immune system play a role. Research reveals it is a response to an antigen (i. e., an allergic-type response) inside the skin or mucosa. Some scholars believe that lichen planus is an autoimmune disease in which white blood cells invade skin cells bordering the mouth, but more investigation is warranted. Others classify lichen planus as a "cell-mediated immune response" and believe it is too early to classify the ailment as autoimmune since we currently don't know the specific antigen involved.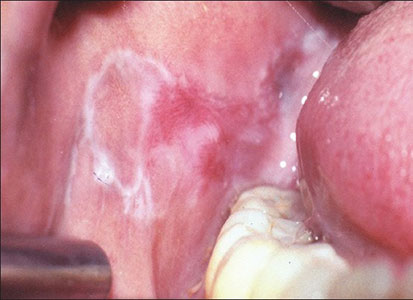 How it looks in the mouth
Lichen planus can have several different patterns in the mouth. The reticular form can be on the cheeks as "lacy web-like, white threads" that are slightly elevated. The name for this pattern is Wickham's Striae. The name lichen derives from a shrub that thrives on rocks with its web-like mossy look. The erosive (atrophic) form can afflict mucosal surfaces, including the cheeks, tongue, and gums. This form often looks bright red due to the deterioration of the top layer of the mucosa in the involved area.
In most cases, people with erosive lichen planus find it uncomfortable to eat and drink- especially with temperature extremes, acidic, coarse, or spicy foods. In stubborn cases, ulceration can occur. Individuals troubled by ulcerations may encounter pain even when not drinking or eating. A less frequent lichen planus is "plaque-like lichen planus", characterized by a dense thickening of the mucosal tissue.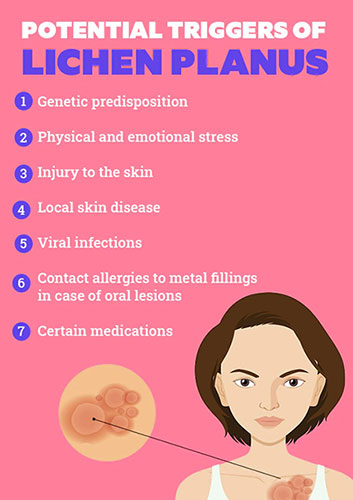 Lichenoid reactions are a mucosal disease that mimics lichen planus both microscopically and clinically. It is a response to allergies. Its sometimes triggered by medicines, oral care products, and infrequently, metal dental materials. Recognizing the underlying cause of a lichenoid reaction is often tricky. However, once identified, these lesions can rapidly heal.
The harshness and following incapacity caused by lichen planus vary from insignificant to severe. Skin lesions can be in the form of raised itchy rashes, which and purple or brown. In addition, other mucosal surfaces such as the eyes, esophagus, and genitalia may be affected.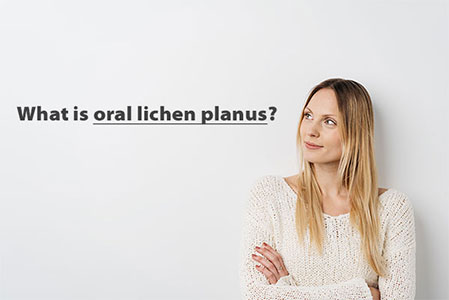 Questions and Answers regarding ORAL LICHEN PLANUS
How can I determine if I have oral lichen planus?
A  doctor or dentist must make the determination. Regularly, a biopsy is prudent to confirm the diagnosis and rule out other diseases.
What should I do if lichen planus is hurting my mouth?
With oral lichen planus, it is often necessary to use mild toothpaste with a minimum of flavoring and other ingredients. In addition, a soft toothbrush is essential.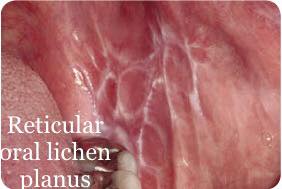 What is the needed treatment for oral lichen planus?
Often, the reticular type of oral lichen planus doesn't need any intervention, excluding periodic inspection by a dentist. We can typically manage the erosive and ulcerative conditions with the application of topical corticosteroids. In some instances, the dentist may prescribe systemic steroids or other medicines.
Does oral lichen planus resolve with medication?
Oral lichen planus is a persistent condition that can be managed but not eradicated. The therapy aims to transition the "erosive" or "ulcerative" forms of oral lichen planus into an asymptomatic reticular form. People with oral lichen planus may need some form of maintenance treatment to keep their condition in check. Oral lichen planus can be managed but often will manifest disease "flare-ups" requiring additional treatment. Following a healthy lifestyle consisting of a well-adjusted diet, activity, and decreasing stress is helpful.

Is oral lichen planus contagious?
No. You cannot pass on lichen planus to your partner or family member, and you cannot contract it from anyone.
Can oral lichen planus and cancer be connected?
This connection remains debatable, but there there are cases that suggest a relationship. This concern strengthens the fundamental need to get a precise diagnosis, usually with a biopsy. In addition, all patients with oral lichen planus should have a recurrent evaluation to assess therapy's efficacy and monitor for suspect changes. Finally, if your oral lichen planus is not responsive to medical treatment or if you should notice a meaningful difference, you should talk to your dentist for further evaluation.
References:
https://www.aaom.com/oral-lichen-planus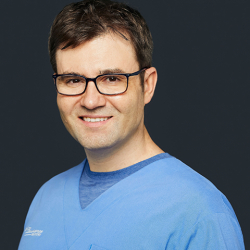 Latest posts by Dr. Allan Hawryluk
(see all)
---