St Lawrence Dentistry wants achieving a beautiful smile through whitening to be enjoyable.
However, whitening sensitivity can cause you to experience pain or discomfort during the whitening process. Dental grade bleaching agents work so well because they get deep into the tooth enamel to whiten and brighten better than products that sit on the teeth' surface. In some cases, though, dental-grade bleaching agents can penetrate the enamel through the dentinal tubules to expose the nerve endings below.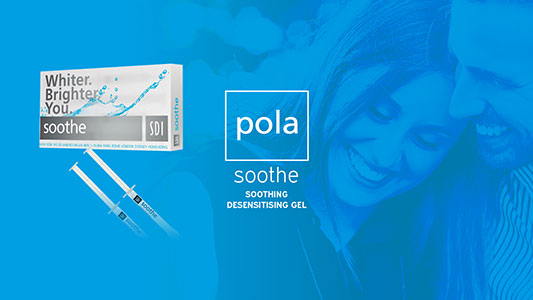 Pola Soothe is a "sustained-release gel" holding 6% potassium nitrate and 0.1% fluoride gel. Its calms tooth sensitivity created by chemical and thermal stimuli. Unlike other desensitizers, Soothe will not hinder the whitening process. Sensitivity can occur during or following the tooth whitening procedure. Therefore, you can utilize 'Soothe' before or after your tooth whitening treatment. Soothe is produced by Pola, which has a brilliant worldwide reputation.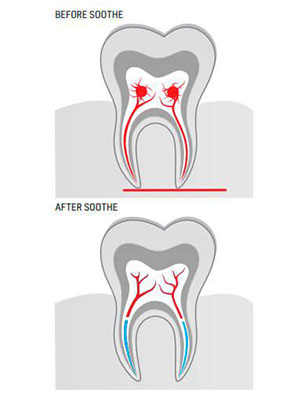 Soothe can be used before or after bleaching sessions and in conjunction with toothpaste designed to treat sensitivity. Manufactured in Australia, each 1.3gram Pola Syringe is individually wrapped. St. Lawrence Dentistry also supplies a 4 Syringe Option in a plastic Pola Box. We recommend Soothe to also to non-bleaching patients who have chronic tooth sensitivity. For example, you may have chronic dentin hypersensitivity (DH) if you typically feel a lively burst of discomfort after consuming hot or cold meals or sweets. It happens when the inner layers of a tooth become uncovered as they are more sensitive to stimuli.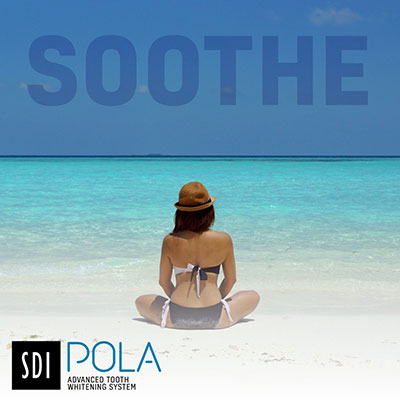 Pola Soothe is an excellent product because so many patients are suffering from tooth sensitivity. If patients have sensitivity, Dr. Hawryluk recommends, in their bleaching tray, placing some Pola Soothe. The potassium nitrate and fluoride contained in this product work together to help tooth sensitivity. Just run a thin line of the gel in your bleaching tray and wear the tray for 30-45 minutes at a time. It will help stop tooth sensitivity. You can use Pola Soothe before bleaching, after bleaching, or instead of bleaching. Up to 85% of patients have sensitivity during the bleaching process. Dr. Hawryluk considers Soothe a brilliant product to help patients with tooth sensitivity. It's incredible how the combination of potassium nitrate and fluoride makes a massive difference in tooth sensitivity. St. Lawrence Dentistry makes sure the Soothe product is available to all our patients who do bleach with us.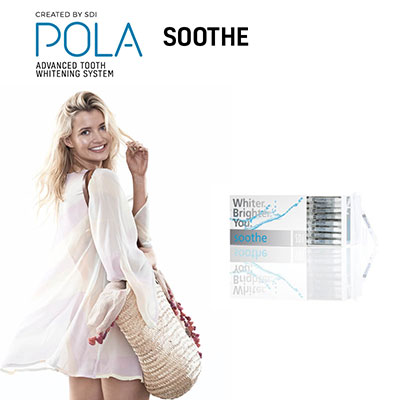 In addition to being in Pola Soothe, you can find Potassium nitrate in toothpaste and mouthwashes designed to treat tooth sensitivity. The compound is known to assist in reducing tooth sensitivity by calming the nerve fibers in the teeth. Potassium nitrate works by blocking the transmission of pain from your tooth to your brain. In other words, it manages the tooth's nerve activity so that you feel minor discomfort when eating hot, cold, sweet, or sticky foods.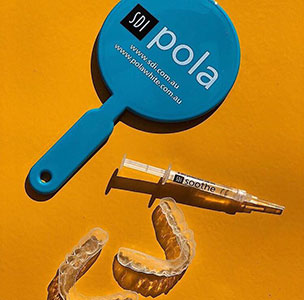 The Fluoride in Soothe helps during teeth bleaching because whitening causes temporary demineralization of tooth enamel, making the nerves in the teeth more receptive. Fluoride is a mineral you find in both salt and fresh water, soil, and numerous foods. When you add fluoride remedies to your day, you'll be bringing back the minerals and fortifying the enamel. Though you may get fluoride from tap water or toothpaste at home, it may not be enough to resolve sensitivity with your teeth. If you are at our office, feel free to talk to our friendly staff at St. Lawrence Dentistry about how fluoride can benefit you.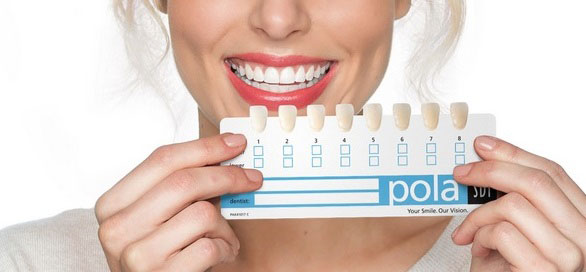 Make sure you use Pola Soothe under the supervision of a dental professional. Please ensure you do not have any known allergies to the listed composition. Pola Soothe will work best if you keep it out of the sunlight and store it at room temperature. Please keep out of reach of children.
We hope you have enjoyed this article. The location of St. Lawrence Dentistry dental office is in the beautiful Port Credit district of Mississauga. If you are looking for a new dentist, please give us a call!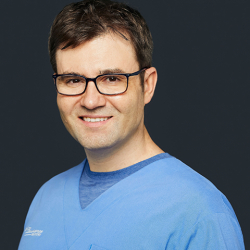 Latest posts by Dr. Allan Hawryluk
(see all)
---