The type of dental filling material and how it is placed affects the quality of your dental work. For our patients wellbeing and for outstanding cosmetic results, Dr. Hawryluk Jr. uses the latest generation of dental filling products available.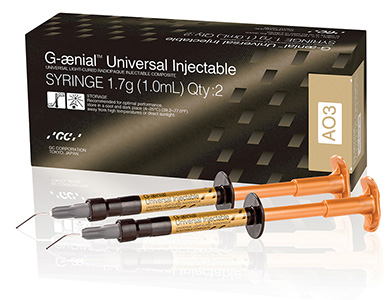 Dr. Hawryluk Jr. has partnered with the dental material company 'GC' for over a decade and has placed thousands of beautiful and strong white fillings. With nearly 100 years of experience in dental materials, GC is known worldwide for its groundbreaking technology. Now its new 'G-aenial injectable composites' are available in Canada. These are innovative materials allow Dr. Hawryluk to ideally contour dental fillings so they appear completely natural. At same time they provide a strong and long lasting aesthetic tooth restoration.
To create this new category of dental filling material, GC combined high density resin with ultra fine particles (less than 150 nanometers in size). With new 'saline coverage coating technology', these fine particles are dispersed homogeneously within the resin matrix. This results in a dental material with ideal adaptation to your tooth, bountiful strength, and eye catching esthetics.
Dr. Hawryluk can create beautiful dental fillings with this material due to its creamy consistency, excellent viscosity, and thixotropy. He finds it highly shapable and patients love the esthetics of new dental restorative.
Photo A: Dental Composite filling done with older type filling material which has broken down shortly after placement.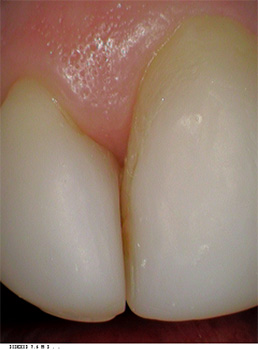 Photo B: Repair by Dr. Hawryluk using latest generation of filling material. Notice how well sealed and glossy the finish is.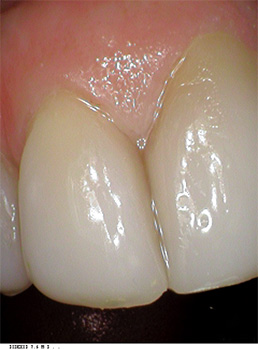 Dental filling materials are used in conjunction with a bonding agent. Research has confirmed that when G-aenial injectable composites are used in conjunction with the bonding agent 'G-Primo bond' there is virtually no leakage at the margin of the tooth/filling interface. Rest assured, Dr. Hawryluk Jr. always uses these two products in conjunction securing the best results for you.
Another advantage of G-aenial injectable composites is its strength and durability. Some other brands of some other dental composites contain larger particles which can be easily plucked from the surface when exposed to forces In the mouth. However G-aenial injectable composites have a very high wear resistance due to its smaller uniformly distributed particles, This ultimately means that St. Lawrence Dentistry can offer you a filing which will be strong and natural looking for many years. Compared to other products G-aenial injectable composites exhibits very high flexural strength which means a lower risk of chipping or fracture. This means that Dr. Hawryluk can fix more by simple dental fillings instead of needing more invasive and expensive dental crown/porcelain treatments.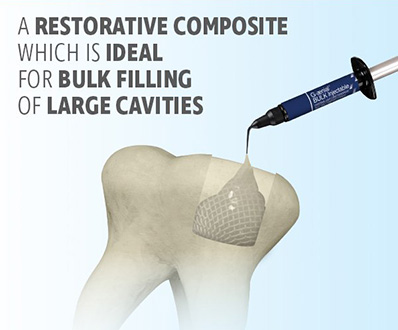 Further adding to the materials durability is its low shrinkage level which reduces the chance a secondary cavity could form at the interface of the tooth and the material. Filling placed at St. Lawrence Dentistry typically last for many decades and this material will further amplify this track record.
Excellent adaptability and strength are not the only advantages this product offers. This new material gives you great gloss retention as well. You can have that super beautiful look to your front teeth and a smooth surface to the back teeth where plaque just falls off. Even after extensive abrasion from brushing, your fillings placed by Dr. Hawryluk Jr. will maintain an excellent gloss over time. You will also appreciate the fact that this material is highly resistant to discolouration. In experiments, even after the material was immersed in 2% curry extract and a 2% coffee solution the G-aenial injectable composite retained its integrity and color. You will not need to worry again about fillings discolouring from food if you have your teeth fixed with these advanced materials at St. Lawrence Dentistry.
Older legacy composite filling materials are still on the dental market in Canada contain larger particles. These particles may be 'plucked' from the surface leaving an uneven surface with large gaps. Consequently light will scatter irregularly and the gloss is easily lost. This is old style material is not used at St.Lawrence Dentistry. Patient satisfaction and excellent dentistry are our goals.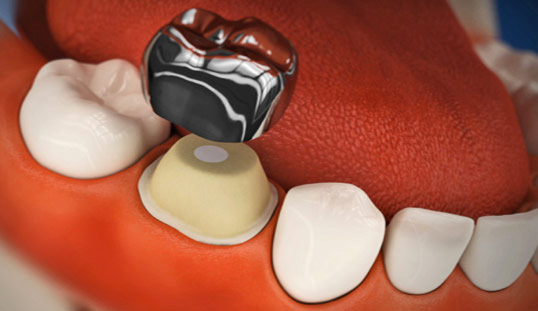 The new generation of filling material is also great for pediatric dentistry or 'children's dentistry'. Now Dr. Hawryluk never has to do the traditional stainless steel crown treatment on children's teeth. This is because the new filling material properties are so good there is no need for pediatric crown placement. Dr. Hawryluk can also get treatment done more efficiently with these new products which is important for children with a low attention span. No crowns and easier placement has resulted in less children needing general anesthetic (sleep dentistry) which makes parents happy.
In conclusion, between Dr. Hawryluks attention to detail and the new generation of dental materials, St. Lawrence Dentistry has what your looking for in a dental experience.