An electric toothbrush is a brush that delivers fast, automated bristle movements, either back-and-forth oscillation or rotation-oscillation (where the brush head reciprocates clockwise and counterclockwise turns), to brush your dentition.
An engine makes the movements at sonic speeds or below. In the case of ultrasonic brushes, the generation of ultrasonic movements is by a piezoelectric crystal. The contemporary electronic toothbrushes energy source is usually by a rechargeable battery replenished through "inductive charging" as the brush resides in the charging base between uses. Therefore, the classification of electric toothbrushes is often according to the frequency of movements (sonic or ultrasonic), depending on whether they make movements below, in, or above the hearing range (20–20,000 Hz) or 2400–2,400,000 oscillations per minute), respectively.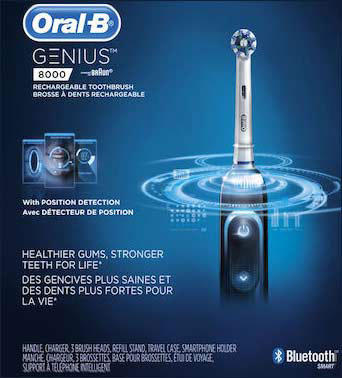 Types of Electric toothbrushes
The classification of electric brushes is according to their action type.
"Side to side quivering" which has a brush head action that moves laterally from side to side.
"Counter oscillation" in which brush heads move clockwise and others move counterclockwise.
"Rotation oscillation" designates brushes in which the bristle head revolves in one direction and then the other.
A "Circular" indicates a brush effect in which the brush head wheels move in one direction only.
Ultrasonic means a brush action where the bristles flutter at ultrasonic frequencies (greater than 20 kilohertz).
Ionic refers to a brush that gives an electric charge to the tooth surface to disrupt the attachment of dental plaque.
Some vibrating toothbrush designs call for a brushing technique similar to that used with a manual toothbrush. In contrast, the recommended cleaning technique with brushes with a spinning head is to move the brush slowly from tooth to tooth.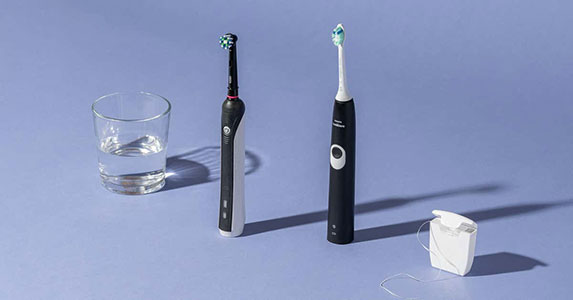 Electric toothbrushes classification is according to the speed of their movements as standard power toothbrushes, sonic toothbrushes, or ultrasonic toothbrushes. It's called a sonic brush; if the motion is sufficiently rapid to produce a hum in the audible frequency of the human range (20 Hz to 20,000 Hz)—any electronic brush with movement quicker than this threshold is called an ultrasonic toothbrush. In addition, specific ultrasonic brushes, such as the "Megasonex" and the "Ultra" have sonic and ultrasonic actions.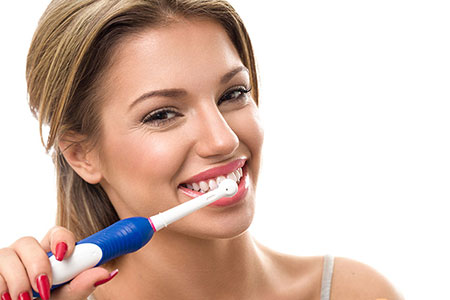 Oscillating Rotating Toothbrush
Oral B iO Toothbrush
Oral B introduced the oscillating rotating toothbrush in the 1990s. It is known to be effective for plaque removal and the reduction and management of gingivitis. Their newest flagship version is the Oral B iO, a smaller circular brush head that vacillates and dislodges plaque. The brush head design is very similar to the prophylaxis handpiece used by Dr. Hawryluk to remove plaque at his Mississauga dental office. The configuration enables the bristles to reach further into the 'hard-to-reach spaces separating the teeth to eliminate plaque. Some variants of the oscillating rotating toothbrush also include a pulsating action which facilitates a more "3D-clean".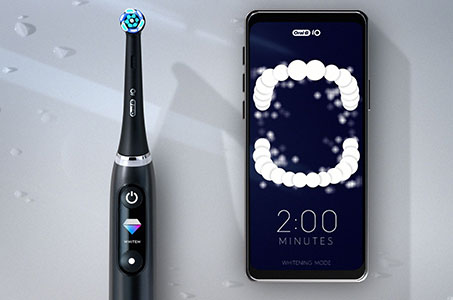 The Oral B iO brush features a linear magnetic drive system. This arrangement provides the convergence of power at the tip of the brush bristles while using the oscillating rotating movement for efficient plaque elimination. The brush also provides 3D monitoring utilizing artificial intelligence that unites the toothbrush with an app. This technology allows you to have an instant evaluation of your brushing performance. If the user wants to bring the report to Dr. Hawryluk for a more personalized oral health review, it can track the data you can discuss with him.
Furthermore, there is an automated calibration of the Oral B iO toothbrush via a pressure sensor. It informs you if your putting too much force or not enough and adjusts the oscillation speed to shield the teeth and gums from excess pressure. Oscillating rotating toothbrushes are demonstrated to be trustworthy compared to manual toothbrushes and are safe for the oral cavity's hard and soft tissues.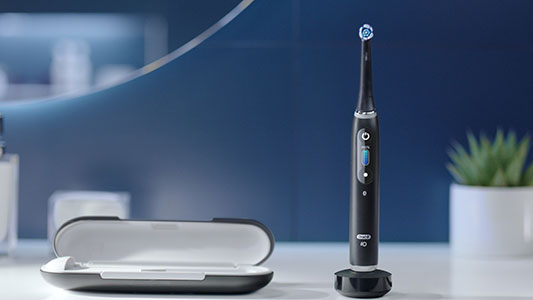 Sonic Toothbrush
Sonic brushes are a subset of electric toothbrushes with fast enough movement to produce vibration in the audible range. Most modern rechargeable electric toothbrushes, i.e., Sonicare, FOREO, and Oral-B, fall into this category. They typically have frequencies ranging from 200 to 400 Hz, 12,000–24,000 oscillations, or 24,000–48,000 movements per 60 seconds. Because sonic toothbrushes use a sweeping motion to clean the teeth, their action is often high in amplitude, indicating that the extent of the sweeping movements is large. In addition, one study found that using a sonic toothbrush causes minor abrasion to the gum compared to a manual toothbrush.
Ultrasonic Toothbrush
The latest developments in this field are ultrasonic toothbrushes, which use ultrasonic waves to clean the teeth. To deem a toothbrush "ultrasonic" it has to emanate a wave at a minimum frequency of 20 thousand Hertz or 2,400,000 movements per minute. Typically, ultrasonic operates at a frequency of 1.6 megahertz, which equates to 192,000,000 movements per 60 seconds.
Ultrasonic toothbrushes emanate vibrations that are very sky-high in frequency but lower in amplitude. These vibrations break down bacterial chains that make up dental plaque and remove their attachment methods to the tooth up to 5 mm underneath the gingival margin.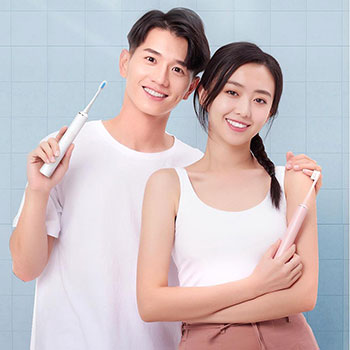 Some ultrasonic brushes, such as the Emmi-Dent, allow solely ultrasonic motion. Other ultrasonic toothbrushes, such as the "Ultra" and the "Megasonex," allow additional sonic vibration fluctuating from 9,000 to 40,000 oscillations per 60 seconds, mimicking a sonic toothbrush, to provide further sweeping motion that facilitates extra removal of food particles and bacterial chain remnants. However, the sonic vibration in these ultrasonic toothbrushes may be lower in amplitude than that found in sonic toothbrushes since bacterial chains do not need to be removed through sonic vibration, as the ultrasound has already broken them up.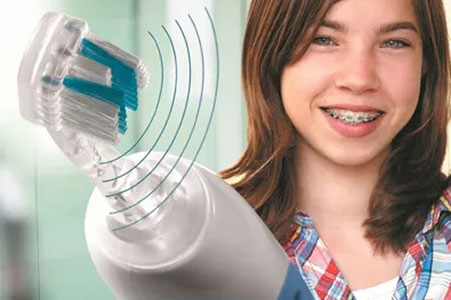 Because of the comparability of the terms ultrasonic and sonic, there is some ambiguity in the marketplace. For example, a toothbrush operating at a frequency or vibration of fewer than 2,400,000 movements per 60 seconds (20,000 Hertz) is a "sonic" toothbrush. "Sonic" means its functioning frequency, for example, 31,000 movements per 60 seconds, is in a human hearing span of roughly 20 Hertz to about 20,000 Hertz. Contrastingly, a toothbrush that transmits ultrasound or vibration at a frequency greater than the upper limit of human hearing is an "ultrasonic" toothbrush.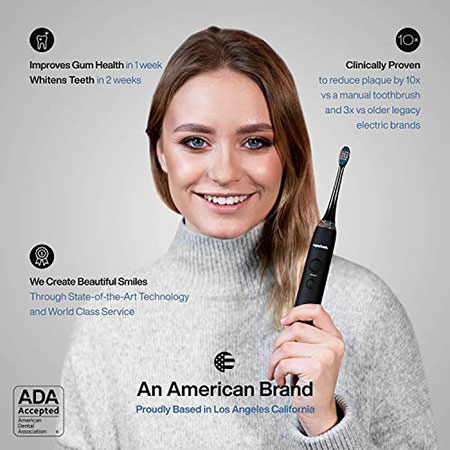 Reference:
Adam, Ralf (April 2020). "Introducing the Oral-B iO electric toothbrush: next-generation oscillating-rotating technology." International Dental Journal. 70 Suppl 1: S1–S6.
Pitchika, V; Pink, C; Völzke, Henry; Welk, A; Kocher, Thomas; Holtfreter, Birte (2019-05-22). "Long‐term impact a powered toothbrush on oral health: an 11‐year cohort study". Journal of Clinical Periodontology.
Davidovich, Esti; Shafir, Salome; Shay, Boaz; Zini, A (2020-07-15). "Plaque Removal by Powered Toothbrush Versus a Manual Toothbrush in Children: A Systematic Review and Analysis." Pediatric Dentistry. 42 (4): 280–287.
https://en.wikipedia.org/wiki/Electric_toothbrush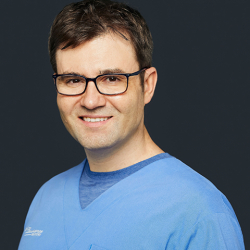 Latest posts by Dr. Allan Hawryluk
(see all)
---