A crown or "cap" covers a tooth or a dental implant. Dr. Hawryluk recommends crowns to support broken, weak, or misshapen teeth.
One of the main dental crowns made at St. Lawrence Dentistry is zirconia crowns. They have quickly become one of the most requested dental crowns for good reasons.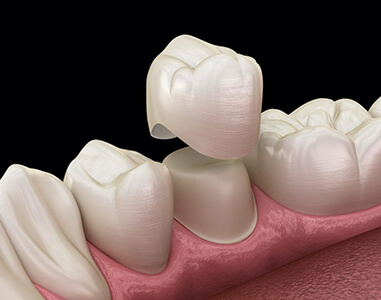 Zirconium dioxide, a white powdered ceramic material, is the principal ingredient of zirconia crowns. Its ceramic properties and milling from a singular block make it a trustworthy dental prosthetic. Zirconia crowns have fundamental advantages in toughness, durability, and longevity. Compared to other crown options, Dr. Hawryluk often removes less tooth structure to place a zirconia crown. Zirconia is one of Dr. Hawryluk's favorite materials due to its biocompatibility. It's less likely to prompt the body into producing a reaction or immunological response such as inflammation.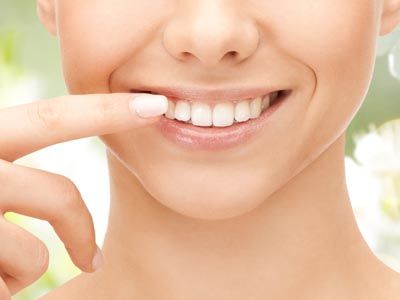 One of the drawbacks of zirconia dental crowns is that their traditional "bond strength" to a tooth is not as good as other crowns. Consequently, there is a higher chance of this type of crown falling off from a tooth on which the dentist placed it. Fortunately, new research has uncovered ways of increasing the bond zirconia has to teeth, circumventing this challenge.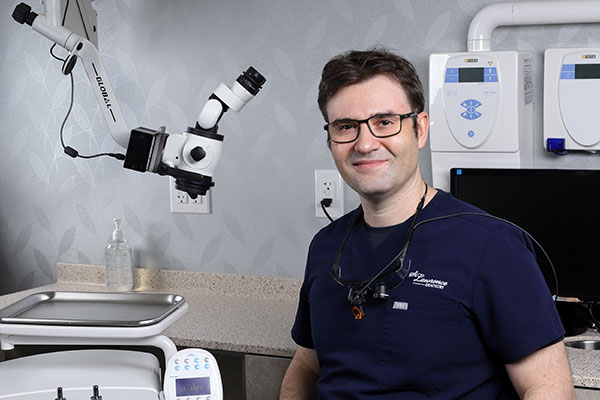 Traditionally dentists were taught that zirconia could not be reinforced by bonding it with resin cement. Bonding to zirconia means forming some chemical bond between zirconia and our resin cement. However, studies have shown the opposite. Legacy teaching has contributed to most dentists still only "luting" zirconia crowns with conventional resin-modified glass ionomer cement- this is the crux of most crown debonding events.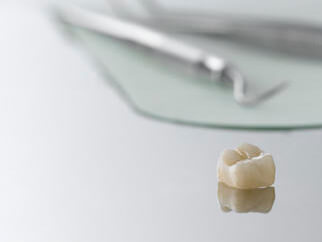 Dr. Hawryluk makes sure his Mississauga patients benefit from the latest research in dentistry. A study from the journal of dental research looked at 144 different laboratory studies examining whether various chemical primers could improve the bond strength between resin and zirconia. They found that if you sandblast the zirconia surface with regular alumina or silica-coated alumina and then use an MDP-based primer, you get an improved bond to zirconia.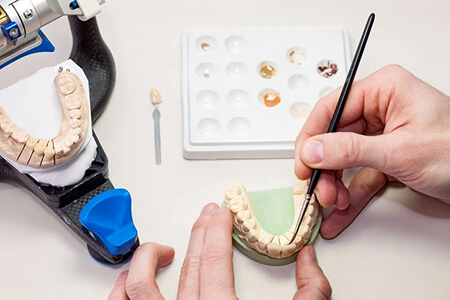 When Dr. Hawryluk's ceramist makes our zirconia crowns, the protocol is to sandblast with 50-micron alumina at 1 bar of pressure, with the blaster aimed from about 10 mm away from the crown. Most of the time, we use alumina for sandblasting, but there are different particles you can use. For example, Rocatec, which is alumina covered in silica particles, is a suitable alternative and is mentioned further in this article.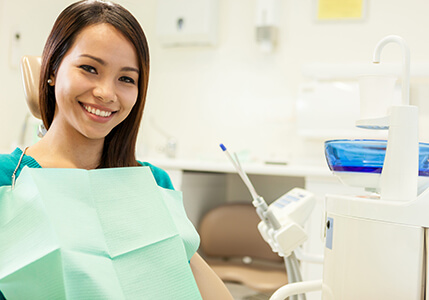 The concept of sandblasting is when you roughen up the internal surface of the crown; the cement can lock into the microgrooves. For roughening up zirconia, you have to use alumina particles, and we can think of this as "little rocks". The roughening up provides micromechanical interlocking with cement.
Dr. Hawryluk explains he must know what type of zirconia he's dealing with before sandblasting. Studies have examined sandblasting zirconia at different pressures and how it will allow bonding to zirconia. The pressure must not be too high to affect the strength of zirconia. "3Y" zirconia is the stronger form, whereas "5Y" is the more translucent form. When you sandblast "3Y", zirconia gets a tiny bit stronger, and when you increase the pressure, it does not affect the strength of the zirconia. The "5Y" zirconia gets slightly weaker as you sandblast it with more pressure.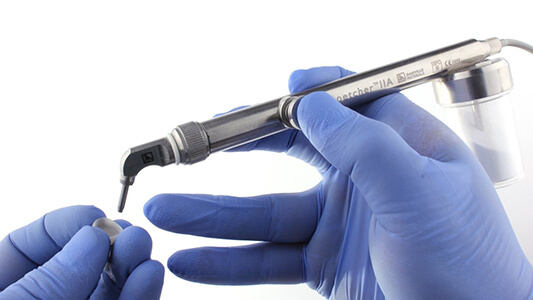 The sweet spot for sandblasting zirconia is at 1 bar of pressure. It allows a good bond, but it does not significantly affect the strength of the material. Researchers did these tests with 15-micron alumina particles. One bar of pressure is the same as about 15psi, and 2 bars are 30psi. The blasting should be for about 10 seconds from about 10mm away.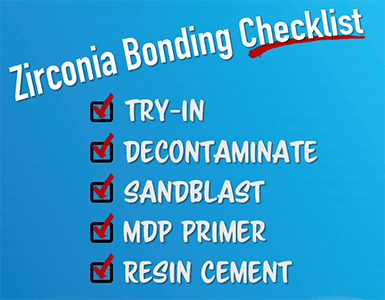 We use a silane primer when using glass ceramics like lithium disilicate (another type of crown material Dr. Hawryluk commonly uses). Saline is a chemical "linker ."On one end, it has a silanol group that bonds to glass, and on the other, it has a methacrylate group that bonds to resin types of cement. The problem with silane is that it cannot bond to zirconia. Zirconia is a polycrystalline material with no glass phase inside – this means we need a different linker molecule called 10MDP. On one end, it has a phosphate functional group that bonds to zirconia (and some metals), and on the other is a methacrylate that bonds to resin cement. Some call 10MDP the "silane of zirconia". There are different companies offering products with 10MDP. Z prime is Dr. Hawryluk's favorite and is from Bisco Corp.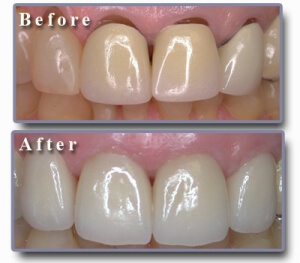 As mentioned above, your dentist cannot use silane alone for zirconia bonding, as it only bonds glass-based materials. However, there is an exception to this rule if the sandblasting material used is Rocatec. It is an alumina particle surrounded by a layer of silica. When you use it, it sprays silica all over the zirconia specimen. Silica is the same thing as glass; once you have glass on the surface of zirconia, you can bond to it with silane primer. At our Mississauga dental office, we ensure the correct priming of your dental crown.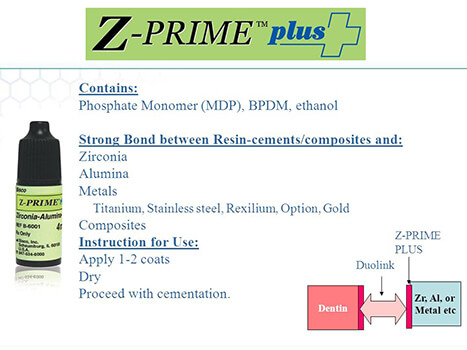 When you try a zirconia crown in the mouth, saliva phospholipids stick to the MDP bonding sites. If your dentist tries to clean this off with phosphoric acid, phosphate-based contaminants in phosphoric acid will stick to the MDP bonding sites. Then there would be nothing for the MDP to bond – therefore, you cannot use phosphoric acid to clean zirconia. Instead, St. Lawrence Dentistry uses Zir-Clean to clean off any saliva from your crown in preparation for cementation. Researchers also found that Clorox bleach cleans saliva off zirconia but not as well as Zir-Clean. Also, re-sandblasting is another way of obtaining a reasonable bond.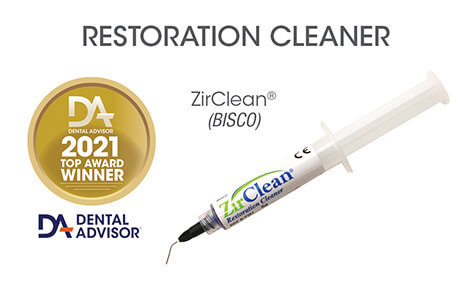 In review, Dr. Hawryluk's steps to bond zirconia are:
Sandblasting at 1 bar pressure with 50-micron alumina from a distance of about 10mm.
The crown is then "tried in the patient's mouth: contamination occurs at this point with salivary phospholipids.
Dr. Hawryluk then applies cleaning solutions to the crown, such as Zir-Clean.
Rinse the crown after 20 seconds, and a 10MDP primer is applied.
Finally, Cement the crown with the widely acclaimed 'Link-Force' resin cement.
We hope you have enjoyed this article. If you live in the Mississauga area and are looking for a dentist, please give us a call!
References:
Viva Learning: Bonding to Zirconia: Nathaniel Lawson, 2021
https://www.ncbi.nlm.nih.gov/pmc/articles/PMC4977346/
https://www.healthline.com/find-care/articles/dentists/dental-crown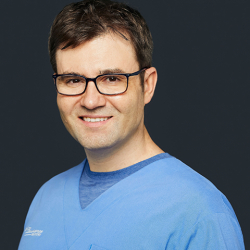 Latest posts by Dr. Allan Hawryluk
(see all)
---