Getting a dental crown is something that people do for many reasons. Some get a crown for cosmetic motivations, and others get it because they need it to support a weak tooth. Still a few more people have a crown put in to restore an already damaged or broken tooth, and a few more do so for dental bridge support.
Whatever the reason for the dental crown, you should be prepared for the procedure when it happens. You should also be aware of what will happen when a crown is put in, what your dentist will need to do beforehand, and how the process works. While you don't need to really know in full detail every step of this procedure, it does help if you know how long this will take and what to expect so you can plan your day accordingly.
When getting a crown for your tooth, your dentist will usually schedule a couple of appointments for this. The first one is usually for the preparation of the crown. This will include the checking out of the tooth or area where the crown will go, and what other procedures need to be done before the dental crown is attached. Some of the things your dentist may do during your first scheduled appointment include the checking of the surrounding areas for decay, and the taking of x-rays to determine the best possible approach to such a process.
On this first day, you can also expect the preliminary steps needed for the placement of the crown to be done. This will include the filing down of the tooth where the crown is to be placed, and even the possible root canal of the tooth, if this is needed. You can also expect the filling up or building up of the area, should the tooth be too decayed to properly receive the crown.
Once your tooth is prepared for the crown, a plaster impression is made of it. This is to ensure that your crown will fit the base exactly and won't come loose anytime in the future. The creation of your permanent crown will usually take one to two weeks, however this is nothing for you to worry about. Your dentist will make a temporary crown for you to wear while the permanent one is being crafted by a dental lab, and this is attached to the tooth using a temporary type of cement.
Your second appointment will be for the fitting and cementing of your permanent crown. While the temporary one is usually made out of acrylic, the permanent one will be usually made of porcelain, some type of metal (some people choose to use gold for this), or even a combination of a metal and porcelain. This permanent crown is cemented in place, after the temporary one is removed of course, and can be expected to last for a long time, as long as proper care is exercised with it.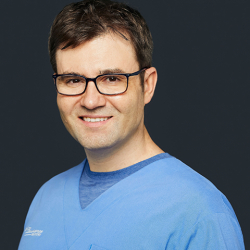 Latest posts by Dr. Allan Hawryluk
(see all)
---