When your dentist tells you that you have periodontitis, you should be aware that this is a condition that has progressed from gingivitis. This means that your teeth are suffering from a lack of proper dental hygiene, and as a result, infection and tartar build-up has occurred. This does not happen overnight, and is something that could have been prevented, even when gingivitis has already occurred.
When you get periodontitis, you have essentially neglected your teeth for too long, and your dentist will need to check the extent of the damage before any treatments are made. Letting your teeth deteriorate as such is already bad enough, and letting it go on after you find out you have periodontal disease will lead to worse things happening. You can expect tooth loss, infections, and even bone loss in your mouth.
Periodontitis Basics
How do you get periodontal disease and what can you do to prevent it? How will you know if you have this? What are the treatments used to remedy such a dilemma? Is there a way to restore teeth and gums that have been ravaged by periodontitis?
Symptoms for this problem include bleeding and swollen gums. These can also be red, and show signs of receding due to the presence of tartar. You may also find yourself with bad breath, loose teeth (if you are experiencing advanced stages of the condition) and have a weird, unpleasant taste in your mouth because of this. This ailment is not usually painful however, which is probably why people tend to ignore this.
As mentioned earlier, periodontitis is a result of long-term neglect of your teeth and gums. Smokers and people who have diabetes are particularly prone to getting this ailment, when coupled with such dental care neglect. Those who are of advanced age are also more prone to getting this condition.
Prevention of periodontal disease is as simple as taking good care of one's teeth. Proper dental care can help keep your teeth and gums healthy, which in turn will help keep bacterial growth to a minimum, and the production of plaque and tartar at bay. Regular visits to your dentist for professional cleaning can also help keep your gums and teeth healthy, which is what is needed to keep periodontitis away.
Treatments for this can vary according to the level of damage to one's teeth and gums. Your dentist can classify the level of periodontitis you have as mild, moderate, and at the very worst, severe. If your periodontal disease is classified as a mild one, scaling and root planing may be what your dentist does to remedy this. This involves the removal of the tartar and plaque from your teeth (scaling), and the smoothing of your teeth's roots to make these areas harder for bacteria to stick to (root planing).
When you have moderate periodontitis, surgery may be required, apart from scaling and root planing. Your dentist will determine what kinds of surgeries are needed to repair the damage wrought by periodontitis to your gums and teeth. When you have severe periodontal disease, surgery is already a must. Antibiotics as well as the removal of really damaged teeth may also be part of what your dentist prescribes for you.
In most cases, you will find that this condition cannot be fully reversed, since some of the damaged bones and fiber won't regrow. You may need to resort to other treatments to have a full mouth of teeth and healthy gums after your dentist treats the periodontal disease.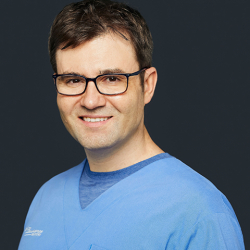 Latest posts by Dr. Allan Hawryluk
(see all)
---