There are different kinds of dentist based on their field of specialization – family dentist, cosmetic dentist, oral surgeons, and a lot more. Usually, a typical family will have a family dentist that will take care of all the primary dental care of all members of the family. The family dentist will help parents keep their children's oral care practices checked ensuring that the kids have excellent dental health.
For families who just move in to a new neighborhood or community in Port Credit in Ontario it might be a little daunting to look for the dentist for their family. It might help to do some online search, just to have an idea on who are the players in the area. And if you know some people in the community, it will not mean any harm to ask around for referrals since you are new in the area. And while you are gathering names from different sources, you might also want to check a few things about the possible candidates so that you will be able to make an informed decision later on as you choose your dentist.

Check the Dentist's Credentials
For sure, there will be a number of names that will appear when you make an online search for a dentist or a dental office in Port Credit. You can start clicking on their websites to see what they offer and what is their expertise, specialization and credentials. You wouldn't want to have a dentist that has no required board certification or accreditation. It is equally important to check how long the dentist has been in practice in the area. It could be that a dentist of dubious background had moved to Port Credit to escape some lawsuits from the last place of practice. While this may sound paranoid, the need to be sure about the dentist's background is really very important. You also need to get some names of patients which the dentist can refer for proper verification later on.
Check out the Dental Office Location and Business Hours
Since you are new in the area, you should choose a qualified dentist that has an accessible clinic, either via private or public transportation. It will be too troublesome if the dental office is located in an area that would take you one hour to get into. Similarly, check the business hours as well. You should have no difficulty in making an appointment for your children during weekends when the school is off.

Conduct an Ocular Inspection
The dental office of the dentist can say a lot about the dentist – if he's organized, or if the ambiance is relaxing for the patients, if the dentist is meticulous or careless, etc. Based on what you see in the facilities and the working environment, you can make an assessment if you would be comfortable going back and forth to the dental clinic for your dental appointments. Dentists with good reputation keep their status reflected in their place of work or business.
Set Up a Preliminary Consultation
While others may consider this as unnecessary, it will help you decide based on how the dentist will respond to your queries and the approach he takes in making you understand the different procedures or services his dental clinic offers. A highly recommendable dentist should be able to make patients feel comfortable as he/she explains the various procedures and services their dental clinic provides to the patients of Port Credit. And the dentist will not have any qualms about giving out names of existing patients knowing that you will call and ask them about him/her. A dentist with spot-on reputation knows pretty well what his patients will say about him if asked.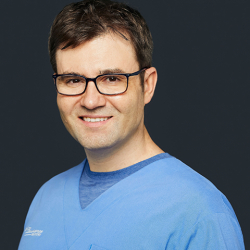 Latest posts by Dr. Allan Hawryluk
(see all)
---