Everyone wants to have a perfect smile – one that will captivate people who see you anywhere, regardless if they don't know you. And not many people are gifted with such kind of natural smile but with the development in technology in dental medicine, one is able to achieve a smile that exudes confidence and genuine happiness. A lot of dental patients in Mississauga who wish to have that killer smile can seek help from a cosmetic dentist in Mississauga.
Aside from orthodontic treatment which is used to straighten your teeth, cosmetic dentistry clinics are taking advantage of recent technological advances in dental techniques and materials that will help you get near-perfect teeth that are as strong and as natural looking as the originals. Dental offices in Mississauga offers the following to help get that confident smile:
Covering broken teeth with porcelain crowns
Repairing chips or rough spots with fillings that match your teeth
Bleaching for whiter teeth
Closing gaps between teeth
Reshaping teeth that don't match the others
Filling cavities with tooth-colored materials
In recent years, more people have seized the opportunity to experience the many wonders of cosmetic dentistry. Some have availed dental implants, which Mississauga dentists are expertly doing. Other dental, orthodontic and cosmetic dentistry services that will give any person additional boost in their confidence are also offered in various clinics. Having a smile makeover through the appropriate dental procedure has become an important goal for many people especially those who wants to have a perfect set of white and well-aligned teeth.
Aside from the latest innovation in many dental procedures, dental materials that were used before had serious disadvantages. The plastic resins used before have the tendency to stain, chip and change color over time. Today, new composite resins or tooth-colored fillings are more durable and maintain their natural color even for a long time. They are stronger and more long-lasting.
Advancement in computer imaging also plays a key role in most of the dental procedures. Dentists are allowed to create "virtual restorations" which they can show to their patients so they can have a clearer and better picture of the likely and expected results of a certain procedure. It helps the patient in deciding for or against the cosmetic dentistry procedure.
Unlike in the past, going to the dentist nowadays does not necessarily mean you need an extraction because of cavity or tooth decay. Dental visits nowadays could mean having any of the cosmetic dentistry procedures that might be needed in order to treat teeth that are discolored or have stains, misshapen, chipped, misaligned, or missing. The objective is to make the teeth looking perfect and one that will give a smile with confidence.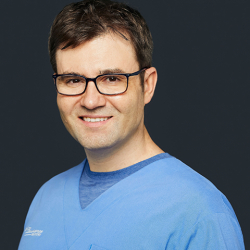 Latest posts by Dr. Allan Hawryluk
(see all)
---