St. Lawrence Dentistry is privileged to be part of the health team of many Mississauga families with young children.
The life of a toddler is loaded with milestones, from a captivating first smile to the first occasion when they pick themselves up and walk on their own accord. It's additionally a period of learning for parents, who are depending on expert counsel from doctors and others as their child moves through phases of developmental improvement.
As per the Ontario Dental Association, an infant's first visit to the dental practitioner ought to happen by the age of 1 year, or when the first set of teeth show up, ensuring their teeth will be stable as they progress through their life achievements.
It is quite common for parents to ask why dental practitioners suggest that babies have their first dental appointment while they are so young. Most of the infant's 20 primary teeth will have developed in when they are a year and a half old, so seeing the dentist in the infant's first year is a prudent decision to make. The first checkup is a safeguard arrangement. Early age dental visits can enable kids to begin realizing what dental appointments are all about, which may allow them to feel increasingly comfortable in the dental chair as they transform from an infant to a toddler.
Deferring first dental arrangements till the age of 3 to 5 years of age can prompt early childhood cavities. This condition is known as 'baby bottle syndrome'. Left untreated, this can result in severe cavities and abscesses leading to agony, contamination, and can even harm the un-erupted grown-up teeth underneath the primary ones.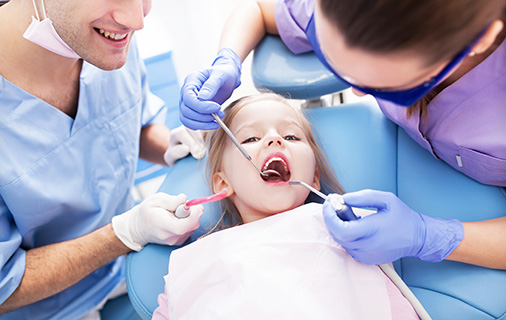 Numerous parents have the misconception that baby teeth are simply unimportant infant teeth, and they will be lost so and may ask themselves, why stress over them?. Be that as it may, an infant's teeth assume an imperative job in a youngster's advancement. A youngster's back molars hold the space for their grown-up molars so they can come in the mouth in an ideal manner. At the same time, they are giving a great deal of the youngster's biting capacity. Our front teeth are instrumental in the pronunciation of words, and a youngster losing their child incisors could weaken their capacity to articulate 't,s, and v' sounds. Additionally, a toddler may wind up unsure and hesitant to chuckle or grin around others. What's more, kids with dental challenges have an increased probability of have feelings of melancholy developing and nutrient deficiencies.
Fortunately, while early cavities can be unnerving, a youngster's first dental visit does not need to be. More often than not, there are no issues in your infant's mouth at one year of age. The focal point of the first visit is on your child's diet, oral hygiene instruction, and to evaluate teething. Furthermore, since the child's first visit dental visit will not be a daunting experience, no parental pre-visit coaching is needed for the child.
You can help your child amid the teething process. It is difficult to see your infant in discomfort as their new teeth come in. You will need to knead/massage their gums with a clean finger, or a chilled wet towel, or give them a therapeutic teething ring. Try to refrain from giving them getting teething cookies. Sugar can stay on the new teeth prompting cavities. Over the counter, gels are not advised, except in cases where the dentist recommends them explicitly. If a child needs pain medication, a child's dose of acetaminophen is acceptable for one day. Never give your infant ibuprofen. A child should flush or drink water if taking any medicine, as sugar is often present in child pills for improved taste.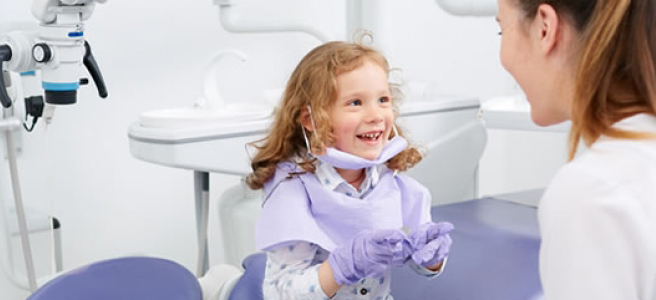 Water fluoridation is very beneficial to infant's oral well-being. For kids under three years old with a heightened chance of growing early youth cavities, parents/guardians can use a 'grain of rice' sized amount fluoridated toothpaste to brush their youngster's teeth. If Dr. Hawryluk determines their cavity risk is low, you can clean with a toothbrush dampened with water. Too much fluoride is also an issue, and we will help you avoid this issue.
To learn about 'fluorosis,' please visit us here:
What is Fluorosis, and How Do You Deal With It?
Nutrition correlates highly with oral well-being. Everyone is prone to an array of oral health conditions that can originate from diet and oral hygiene status. Water and milk are reasonable beverages for infant's. However, it is best to limit juice intake as much as possible. In particular, it is best to only put water in an infant's baby bottle at night.
The preventative goals of the first dental visit do not just help keep oral issues under control; it also helps the child realize that the dental visit is an integral part of their overall health.
To learn more about children's dentistry, please visit us here:
Children's Dentistry
If you are looking for a dentist in Mississauga or have questions about children's dentistry, please give us a call.
References: youroralhealth.ca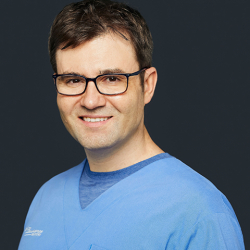 Latest posts by Dr. Allan Hawryluk
(see all)
---