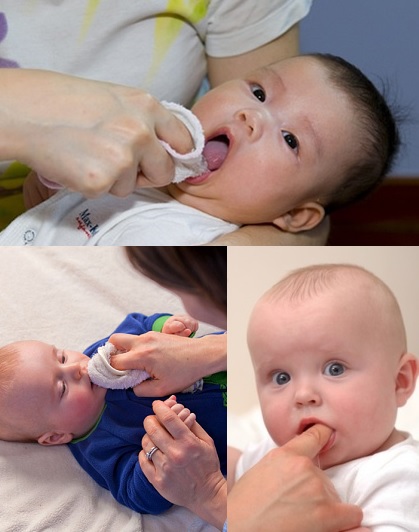 Parents get excited when signs of baby teething are showing. Such excitement should also include preparation for the baby's dental care. The fact is, although babies aren't born with teeth, their baby teeth called "primary teeth" are already formed under their gums. These hidden teeth will start coming out at about 6 months after birth and will be complete when the child turns two years old. It is important to start caring for the baby's teeth as these are important for eating, learning to speak and for growth.
Good dental care for baby's baby teeth should start from birth. Baby's gums and tongue should be cleaned beginning at about 3 months of age. By wrapping a soft, warm, moist cloth or gauze around your index finger you can wipe the gums and tongue in a light circular motion to remove the plaque and milk residue. This should be done after each feeding. Cleaning the baby's mouth at this early stage will help the baby get accustomed to the whole procedure.
When the baby's first tooth begins to pop out, cleaning should be done very carefully at least twice a day. By this time, wiping will be replaced with brushing. The toothbrush for baby teeth should have a soft brush, small head and long handle. The toothbrush should have rounded and soft filaments and should be replaced every 10 – 12 weeks or sooner if the filaments become splayed. Specially designed infant toothbrush that fits over your finger can also be used. As the baby grows and shows signs of wanting to hold the brush himself, a toothbrush with a chunky handle should be used. This will be easier for the baby to hold with the assistance of the parents.
When the baby turns 1 year old, brushing the teeth is without toothpaste. Toothbrush will be wet and used to brush the baby teeth. The brushing action itself is actually the most important part of keeping the teeth clean. If toothpaste is to be used at this stage, you should choose one that is specifically manufactured for infants as this contains very little fluoride. While fluoride helps strengthen the tooth enamel, over consumption can cause fluorosis – a condition where white spots can appear on the permanent teeth. Cleaning in circular motion allows the brush to clean the teeth, gums and tongue.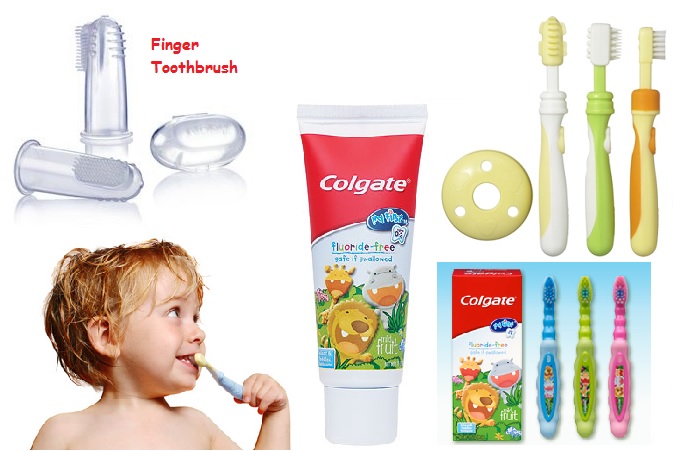 By age 1, you can start using a pea-sized amount of a non-fluoridated toothpaste. Fluoride toothpaste can be introduced to the child at age 2. Parents should brush their baby's teeth until the child is old enough to make a grip to the brush. Your child can start imitating what they see so it will be ideal that the child brushes her teeth with the parent so that the parent can demonstrate proper techniques of brushing which the child can copy or mimic.
Even if the child wants to brush his teeth on his own, parents should still supervise the brushing process until the child is able to rinse and spit without assistance. This usually occurs at around age 6. Your child will have 20 teeth by age 3 and won't lose the last baby tooth until age 12. During this time, it is important that proper cleaning of the teeth, gums and tongue are carried on by your child.
For more dental care help, your pediatric dentist in Mississauga is more than happy to accommodate you and answer all your questions regarding baby teething and pediatric dental care.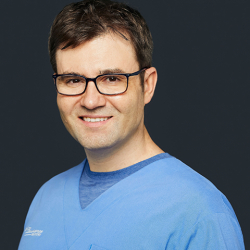 Latest posts by Dr. Allan Hawryluk
(see all)
---