Digital X-Rays
St. Lawrence Dentistry has used digital imaging since 2005 and in 2018 we welcomed the latest generation and most advanced digital x-ray technology to our clinic — The Schick 33 Digital system. Radiographs are used sparingly in our clinic and only when there is a clear indication to do so. But when do use them we can the difference is clear between older legacy digital technology and the newer Schick 33 system.

Digital radiography emerged in the late 1990's and has becoming more and more prevalent. Dr. Hawryluk Jr. remembers when this was introduced at his dental school in 1998 as a novelty. At that time no one knew it would become so widespread. It involves the use of digital X-ray sensors instead of traditional photographic film. Digital radiography helps dental professionals make the most accurate and efficient diagnosis, and quickly develop treatment plans. A small sensor is connected directly to a computer instead of a film packet. When taking X-rays, the sensor is moved from tooth to tooth. The x-rays are available immediately on the computer monitor, with no development step in between. Since the digital X-ray exposure is shorter than conventional X-rays, the amount of X-ray radiation is reduced by up to 90 percent.
Some advantages of digital X-rays:
Faster and more efficient.
View images instantly.
Less radiation exposure.
Images can be enhanced to improve viewing.
Images can be stored electronically.
Avoid the use of chemicals used in the traditional developing process.
Digital Imaging
Digital imaging is a useful tool for dentists in developing patient dental treatment plans. Digital imaging is used in combination with dental simulation software to process a pre-procedure image to illustrate what the treated teeth should look like after the process. Digital imaging helps the dentist make an accurate diagnosis, perform the procedure more accurately and reduces the number of examinations necessary. Dentists can also use digital imaging to educate a patient and illustrate what the teeth will look like post treatment.
The new Schick 33 system allows St. Lawrence Dentistry an unprecedented level of resolution and control over digital images. It features the industry's highest theoretical resolution and it changes the way your dentist will see your images.

Schick 33 allows the x-rays to be set according to specific diagnostic needs. Schick 33's clinical-specific mapping feature allows the dentist to automatically default to presets for general dentistry, endodontics, periodontics or restorative dentistry.
The simple enhancements offered by this technology allow St. Lawrence Dentistry to make a more sophisticated diagnosis.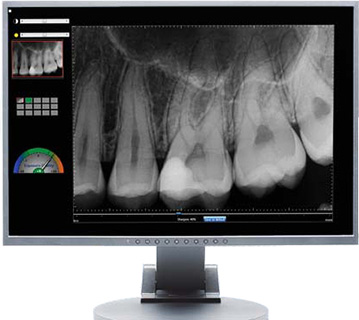 The system easily allows changing image sharpness to the optimum level with Schick 33's powerful Image Enhancement System. The dentist can simply move the interactive image enhancer to quickly adjust image quality and achieve an unprecedented level of personalization and control.
These newer digital sensors are just one of ways in which St. Lawrence Dentistry is constantly upgrading and improving. If you would like to learn more about this latest digital x-ray technology and you live in the Mississauga, Toronto, or Oakville area please give us a call.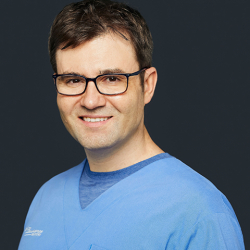 Latest posts by Dr. Allan Hawryluk
(see all)
---