You've done this a number of times in the past. Rush through your grocery shopping, pass by a collection of toothbrushes in one of the aisles, and decide to grab one to replace the one you currently have at home and that is that. While this is a common enough occurrence, with people not really putting that much thought in the selection of their toothbrush, this does not mean that this is what you should do as well.
When you choose a toothbrush, you are essentially choosing the tool by which to keep your teeth and gums clean and healthy. If you get a toothbrush haphazardly, chances are, your teeth and gums will suffer the consequences of such a careless choice. Some thought should be put into the choosing of your toothbrush, and before you buy it, you should already have a general idea of what kind of toothbrush is best for you.
Basic Points to Remember
While most of the toothbrushes you find being sold in stores are made of safe materials, there are some that are better for you than others. For instance, some of the toothbrushes you find may have hard bristles, which can actually hurt your gums and expose you to infection. These also come in many different sizes, so it is best to choose the right kind of toothbrush size for you or the family member you are buying the toothbrush for.
Bristle Options – while you will find choices that include hard and medium bristles, it is advised that you choose one that has soft bristles on it. Soft bristled toothbrushes are recommended to help prevent the possibility of gum and tooth enamel damage due to vigorous brushing. Also, try to check if the tips of the bristles on your toothbrush are rounded, since these are considered better for the safety and care of your gums and teeth.
Brush Size – toothbrush size is also something you need to be careful in choosing. While there are bigger toothbrushes, it is said that a brush head that is 1-inch long and half-an-inch wide is the best choice for adults. For kids, choose toothbrushes that are ideal for their age. Babies and toddlers have brushes made specifically for them, and in the right sizes for their small teeth and mouths. Older kids can use toothbrushes that are made for adults, although there are also smaller toothbrushes available for kids up to 12 years of age being sold as well.
Comfortable handle – another thing you need to consider is the size and fit of the handle in your hand. Make sure that you have a good grip on your toothbrush (that the handle is not to skinny or too bulky for you), since these also come in many different sizes due to the fact that people have different hand sizes too. Ensure that it does not slip when you hold it (a non-slip grip) to enable you to properly maneuver your toothbrush without it sliding from your hands when you use it.
Powered or Manual – this choice is often dependent on whether or not the person using the toothbrush will benefit from the automatic movement of the toothbrush bristles or not. Both can clean your teeth effectively enough, however those who have difficulty in brushing their teeth (those with arthritis or debilitations that make brushing difficult) often choose to go with powered toothbrushes since these help them clean their teeth better.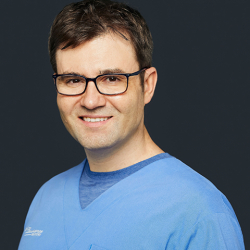 Latest posts by Dr. Allan Hawryluk
(see all)
---